Axel Merk: Diversifying with Gold & Cash (Podcast)
Axel Merk: Diversifying with Gold & Cash Podcast – Money Metals
Coming up we'll hear from Axel Merk, President and Chief Investment Officer of Merk Investments and manager of the Merk Funds. Axel breaks down investor complacency, the risk of putting too much money into risk assets and gives advice on the proper weighting of precious metals in your own portfolio. Don't miss a sensational interview with Axel Merk, coming up after this week's market update.
Precious metals markets saw a bit of a relief rally this week off deeply depressed sentiment. The silver futures markets entered trading Monday with a record high in non-commercial speculative short positions. That's often a contrarian indicator which suggests bearish sentiment has gotten excessive.
The extreme silver short position doesn't necessarily mean a major bottom in silver prices is in. But it does indicate that a rally of at least some significance is likely to unfold soon.
In a bullish scenario, the rally could turn into a massive price spike fueled by traders covering their short positions. Last week's technical breakdown may have generated maximum pessimism in the silver market. That is usually followed by capitulation and short covering.
We're already seeing some of that today, with gold and silver rallying on news of lower-than-expected readings on retail sales, consumer sentiment, and consumer price inflation. Markets may be thinking the Fed will have trouble hiking interest rates any more this year.
Silver is now posting a weekly gain of 2.0% to bring spot prices to $16.01 an ounce. Gold prices are up 1.2% this week to trade at $1,228. Platinum comes in at $920, higher by 0.9%, while palladium is higher by an impressive 1.9% this week and now trades at $861 per ounce.
Palladium is now within striking distance of trading at a 1 to 1 ratio with platinum. That hasn't happened since 2001. Palladium still has the positive momentum, but platinum looks increasingly attractive as a long-term value opportunity.
Well, speaking of value, many investors are worried about lofty valuations in the stock market and whether the Federal Reserve will trigger a correction or possibly even a crash if it attempts to reverse Quantitative Easing.
On Wednesday, Fed chair Janet Yellen testified before Congress and tried to downplay the risks of reducing monetary stimulus. Her remarks were received by markets as somewhat dovish on interest rates, with odds now favoring just one more hike this year.
Also noteworthy was an exchange with Republican Congressman Bill Posey over auditing the Federal Reserve. Fed chair Yellen actually suggested that FOMC officials need to be able to formulate policy secretly inside a safe space:
Rep. Bill Posey: Can you give me an example that would justify the lack of transparency?

Janet Yellen: Well we don't have a lack of transparency, umm….

Rep. Bill Posey: Well you do if you can't audit it. That's a lack of transparency.

Janet Yellen: I regard the Federal Reserve is one of the most transparent central banks in the world. We explain…

Rep. Bill Posey: That's a statement. What do you fear about the audit? Give me a real time example.

Janet Yellen: So, I think the FOMC needs a space in which it can have honest conversations.

Rep. Bill Posey: So you're telling me we shouldn't be transparent for the fear of being second guessed, or somebody criticizing you because they thought you were wrong?
An Audit the Fed bill delivered to President Donald Trump's desk would be a major victory for sound money advocates. Unfortunately, the GOP Senate is moving forward on legislation at a glacial pace. Senate leaders have postponed the summer recess in attempt to finally bring a healthcare bill of some kind to a vote.
More seems to be getting done legislatively at the state level. States including Arizona and Idaho have moved forward with bills to remove income taxation from precious metals. And late last month Louisiana Governor John Bel Edwards signed a bill to eliminate sales taxes on precious metals.
Louisiana has now joined 26 other states that do not levy sales taxes on precious metals at all. Eight others include at least a partial exemption on levying sales taxes on precious metals purchases. It's worth noting that Louisiana's governor is a Democrat. Bipartisan support for sound money reform is possible to achieve in some cases.
Goals such as greater transparency at the Federal Reserve shouldn't be thought of as partisan issues. Auditing and reforming the Fed and letting gold and silver compete freely with fiat dollars are really populist issues. Sound money is all about taking power away from banking elites and giving it back to the people.
Unfortunately, most Capitol Hill Democrats are more interested in falling into line to oppose Republicans and avoid shaking up the system. They like having one of their own in Obama-appointee Janet Yellen still heading up the Fed – and they aren't about to give the Republican-controlled Congress more say over monetary policy.
Maybe they'll feel differently about auditing the Federal Reserve if President Trump replaces Yellen with a Republican next year.
Well now, without further delay, let's get right to this week's exclusive interview.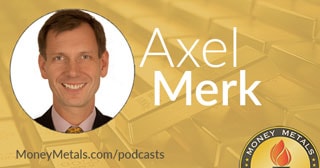 Mike Gleason: It is my privilege now to welcome in Axel Merk, President and Chief Investment Officer of Merk Investments and author of the book, Sustainable Wealth. Axel is a highly sought-after guest at financial conferences and on news outlets throughout the world, and it's great to finally have him on with us.
Axel, it's a real pleasure to speak with you, and thanks for joining us today.
Axel Merk: Great to be with you.
Mike Gleason: Now, as we start off, you recently wrote a piece about complacency in the markets. We are seeing extraordinarily low volatility, and there isn't a lot of interest in safe-haven investments like precious metals at the current time, at least not in the U.S. Axel, talk about why investors may not be showing enough concern and what this complacency says about where we are in the current market cycle.