Dead Malls of America: The Retail Apocalypse Deepens
Dead Malls of America: The Retail Apocalypse Deepens by Greg Guenthner – Daily Reckoning
We're kicking off the trading week with another brutal day for the retail sector.
There's nothing worse than a group of stocks trending lower during a roaring bull market.
These poisonous retail stocks emit a radioactive glow. Even a novice investor can't miss these losing positions draining the gains from his brokerage account.
Traditional retailers and the "mall stocks" are having a downright terrible year. The S&P Retail Index ETF (NYSE:XRT) is down more than 11% so far this year after pushing to new lows on Monday. For comparison, the S&P 500 is up more than 8%.
Investors flipped the switch in 2017. No one wants anything to do with the traditional retailers. The divergence couldn't be more clear…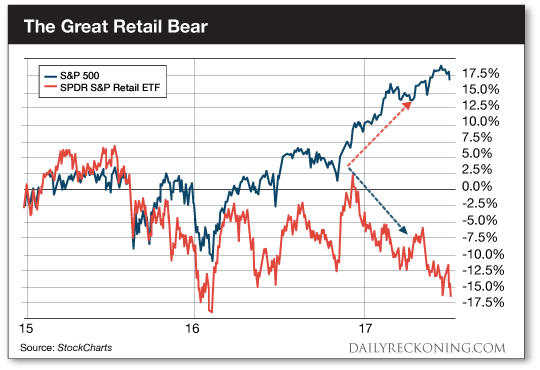 Yesterday's retail failures are a laundry list of household names. Macy's Inc. (NYSE:M) plummeted 7% on the day. Gap Inc. (NYSE:GPS) dropped 6%. And poor Abercrombie & Fitch Co. (NYSE:ANF) tanked more than 21% on news that the chain ended talks of a potential sale. The stocks of an entire wing of your local mall are plummeting into the abyss right before your very eyes…
Meanwhile, Amazon Prime Day is upon us!
Coincidence?
I think not…
As a group, the retail sector is quickly approaching its winter 2016 lows (that was the trough of the 18-month broad market chop that ripped through vulnerable sectors like biotech and small-caps). Heck, the retail sector can't even get its act together on the market's good days in the middle of summer break. No one wants to own these old-fashioned stocks as Amazon fires up its bulldozers.
Even the formerly untouchable Costco Wholesale Corp. (NASDAQ:COST) is feeling the full weight of the Amazon juggernaut. Costco shares had enjoyed a powerful rally to new all-time highs, rising 18% year-to-date by early June. These gains have vanished less than a month later. After cratering another 2% yesterday, COST is now in the red for the year.