Is This a Contrarian Buy Signal for the Commodities Bust?
Is This a Contrarian Buy Signal for the Commodities Bust? by Wolf Richter – Wolf Street
Here's how commodities fared in the first half.
Some people might consider this development a flaming contrarian buy signal for commodities:
"Goldman Sachs Group Inc., the dominant commodities trader on Wall Street, is reviewing the direction of the business after a slump in the first half of the year," Bloomberg reported, citing "people with knowledge of the matter."
Will Goldman exit commodities trading?
In 2009, Goldman's commodities trading revenues reached $3.4 billion. By 2016, it was down to $1.1 billion, "according to one of the people" cited by Bloomberg. In April, Goldman blamed its lousy first-quarter results in part on "significantly lower" net revenue from commodities trading. It pointed out at the time that client volumes suffered as crude oil volatility averaged the lowest level in over than two years.
Bloomberg added, citing "the people":
While the bank flagged the poor results for the first quarter — without giving specific numbers — the weakness has continued and the unit's start to the year has been the worst in more than a decade….
On Friday, Barron's reported that Wells Fargo downgraded the stocks of three US oil field services companies because the analysts expected a "prolonged stagnation" in oil prices due to an "unexpected glut" as US shale oil production surged.
"Unexpected?" Here's a chart of the oil glut in the US, in terms of crude oil and petroleum products in storage. This glut has been going on for over two years: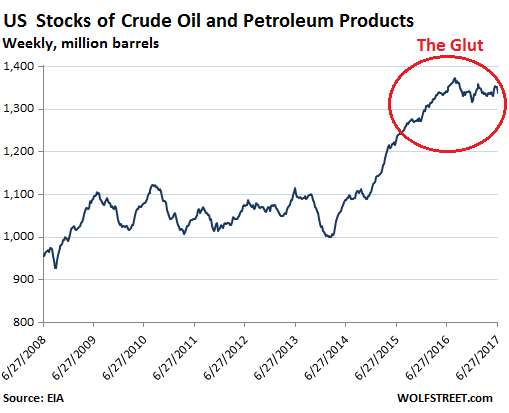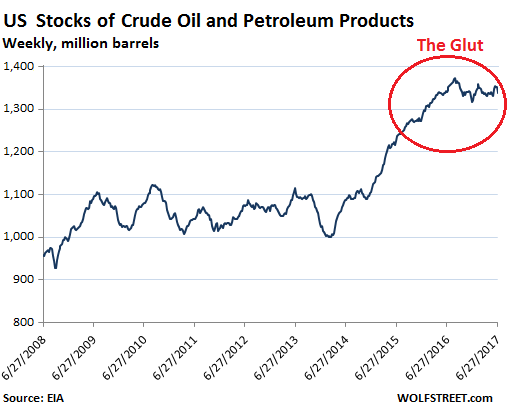 As a consequence, prices of crude oil and petroleum products keep getting hammered this year. During the first half of 2017, prices for WTI fell 12% and for Brent 14%.
So Goldman is licking its wounds from the market and is pondering how to proceed. According to Bloomberg, "The commodities division was one of the topics of discussion at a board meeting held in London late last month." But no decision has been reached whether or not to exit the commodities trading business.