President Trump's Crackdown On Deep State Leakers In Progress And The MSM Is Totally Freaking Out
President Trump's Crackdown On Deep State Leakers In Progress And The MSM Is Totally Freaking Out by Susan Duclos – All News Pipeline
Since before Donald Trump was inaugurated and after Barack Obama signed an EO which finalized rules to make it easier for the nation's intelligence agencies to share unfiltered information about innocent people, leaks to the media came out fast and furiously from Obama holdover deep state operatives and anti-Trump members of the intelligence community, where every day, some new "anonymously" sourced leak was reported on by a number of news outlets, which many believe was the intent of Obama's last minute rule on his way out the door.
Ron Johnson's Senate Committee on Homeland Security and Governmental Affairs released a report documenting unauthorized disclosure of national security information from January 20, 2017 to May 25, 2017, with a chart, showing how serious these leaks have been.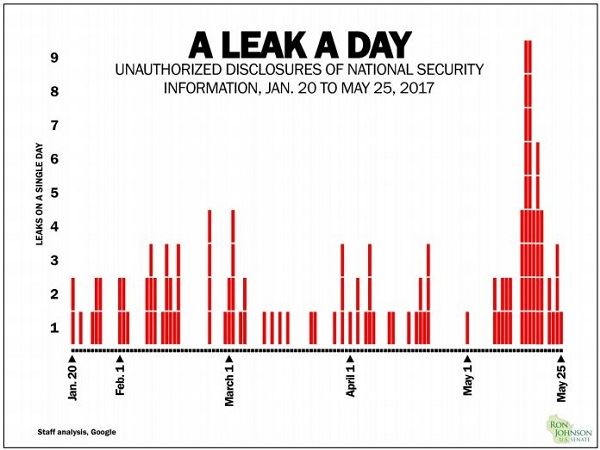 President Trump himself had often expressed his frustration while pointing out the dangers of classified information being leaked to the MSM, information no member of the media holds security clearance to see, much less report on. Trump supporters also expressed their desire to see the new president "clean house," yet knowing that he couldn't simply clear everyone out and leave the nation blind to threats while he attempted to fill those positions all at once.
"The real scandal here is that classified information is illegally given out by 'intelligence' like candy. Very un-American!" Trump tweeted on Feb. 15.
So that left one other option… a crackdown.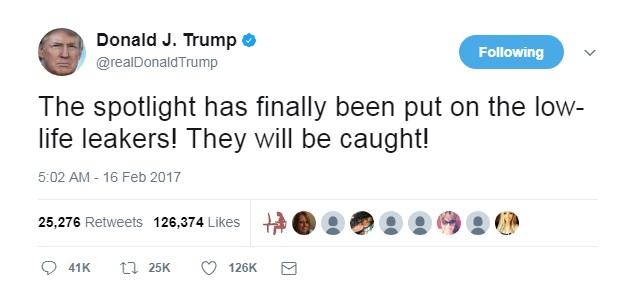 CRACKDOWN ON LEAKERS IN PROGRESS & THE MEDIA WANTS US TO FEEL SORRY FOR THE 'LEAKERS'
The Trump administration has been quietly putting security measures in place in what is being called a "stealthy operation to smoke out the leakers," in order to 1) Stop the leaks, and; 2) Determine who is leaking information to the press.
These measures are suspected to include restrictions on who can access sensitive information, tracking what members of the intelligence community is doing and who they are talking to, tracking what they printed to know what information they are accessing, and limiting the number of people even read into certain sensitive matters, so that if something leaks, the suspects are obvious.
Attorney General Jeff Sessions spoke at a Senate Intelligence Committee hearing on June 13, and issued a warning to the intelligence community, stating "I fear that some people may find that they wish they hadn't leaked," and has multiple investigations going into exposing the leakers.
Before getting into the "spin" the media is starting to put onto this crackdown, it is prudent to remember that Director of National Intelligence Dan Coats testified during a Senate Armed Services Committee in May 2017, stating "Leaks have become a very significant, played a very significant, negative role relative to our national security. The release of information not only undermines confidence in our allies about our ability to maintain secure information that we share with them; it jeopardizes sources and methodsthat are invaluable to our ability to find out what's going on and what those threats are."
Coats went on to add "Lives are at stake in many instances and leaks jeopardize those lives."
The scope of tone deafness and lack of concern for national security on the part of the mainstream establishment corporate media is astounding as we read though a Politico article concerning this crackdown, where their obvious sympathies lie with the deep state operatives within the intelligence community, claiming that cracking down to prevent the leaking of classified information to the media is creating a "culture of fear," and "sends chills through national security world.'
Lets break down a few key points from the Politico story:
One U.S. official voiced concern over even talking to their superiors about a benign call from a reporter. The agency this official works for had started limiting staff's access to information, they said, and it would make it far easier to figure out who was talking to people in the media.
-->