'Insider' Warns Of Potential Devastation Ahead For West Coast
'Insider' Warns Of Potential Devastation Ahead For West Coast by Stefan Stanford – All News Pipeline
USGS Says Of Yellowstone: 'There's Nothing To Worry About' While FEMA Prepares For West Coast Chaos And Martial Law
While linking to this recent story from Susan Duclos on ANP earlier in June about a string of recent earthquakes at Yellowstone National Park, Steve Quayle left the following note on his website with the story link: "The hype is building once again while the South Pacific and the US West Coast are the real problem areas – Tuesday night I will address on the Hagmann's."
While more than 800 earthquakes at Yellowstone in recent weeks have the msm and parts of America frothing at the mouth, as Susan pointed out in her story, this pattern of seasonal quakes has been repeated time and again over the last several years at Yellowstone around this same time of year and even USGS 'experts' tell us, "there's nothing to worry about".
And while a Yellowstone eruption could instantly be a life-changing event for most Americans, as we see outlined within this story, the West coast of the US will likely become a much more volatile region much sooner than any kind of Yellowstone eruption takes place.
With one major section of the San Andreas fault line overdo for a major tremblor by approximately 60 years according to this recent story from the LA Times while we again witness another sudden and unexpected eruption of a volcano in Indonesia, it's easy to understand why experts are warning the West coast and 'Ring of Fire' could soon 'go hot'. We also seen in the two recent SQAlertsrepublished below from a '1st Responder' who recently attending EQ meetings in Washington DC that massive devastation could come that way and they're training for such a scenario right now.
As Susan also pointed out in her story, Quayle himself lives within very close proximity to Yellowstone and takes frequent trips there to photograph and document the surroundings. While many of the arguments being made now of an imminent forthcoming Yellowstone eruption are being blamed upon the escape of 'ancient helium' while referencing this story from 2014, we see that helium is prevalent all across the planet and those in the msm pushing a future 'Yellowstone eruption' continue to base their arguments on very old news.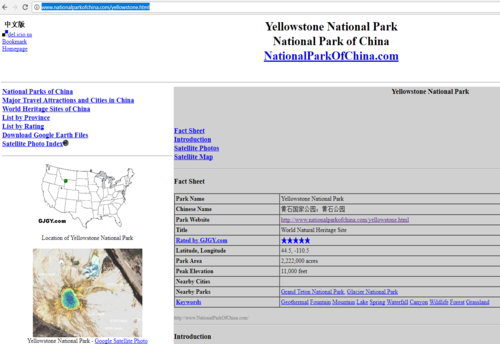 As Quayle also points out to us as seen in this story from the Ski magazine Curbed, Montana's "Yellowstone Club" is absolutely booming! Foreign investment in the Yellowstone region is through the roof and Quayle tells us tourism in Yellowstone sees Chinese and Indian tourists outnumbering America by at least 5 to 1. With some of the richest people in the world purchasing land and homes within miles of the park, shouldn't that be looked at as a lack of concern about a Yellowstone eruption by some who may very well have inside information?
Yellowstone is clearly now an international asset as the Washington Times reported back in October of 2013, "Sorry! Your National Parks Do Not Belong To You". With the United Nations also laying claim to various National Parks across America while China continues to gobble up land across the US, with reports of a 30%+ increase in their spending here, a visit to the National Park of China website interestingly lists Yellowstone as a 'National Park of China' as seen in the screenshot above. Why?
While we'll continue to watch what's happening at Yellowstone, we'll always be sure to be in touch with those who are there and have been watching the park for many, many years before running any 'imminent Yellowstone eruption' stories.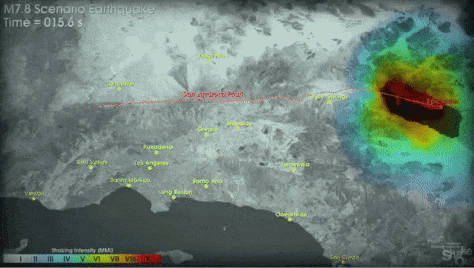 This animation shows how intense shaking is directed from the San Andreas fault into the Los Angeles Basin. Areas of yellow indicate strong shaking; orange is "very strong" shaking and red is "violent" or "extreme" shaking, causing collapses. (U.S. Geological Survey / Southern California Earthquake Center)
In the eye-opening Gif seen above we see how quickly an earthquake along the San Andreas fault line would spread from its origin, in this case in the Salton Sea area, along the fault line and into big cities such as Los Angeles, Long Beach, Santa Monica and Ventura. Depicting a possible 7.8 magnitude quake, the 1st video below is a 2+ minute video version of this gif that shows the spread of energy second by second, showing the strongest energy would hit the LA area within a minute and a half after the original epicenter shaking.
Back on June 13th the Daily Star ran a story in which they warned experts with the USGS are predicting an 8.2 magnitude quake along the San Andreas that would carry more energy than a nuclear bomb. Warning that areas across the state could be ripped apart by 30′ chasms within a matter of seconds, they also report that quakes just like this have struck the state before and its just a matter of time before they do again.