Could Silver Be Winding Up for a Big Move?
Could Silver Be Winding Up for a Big Move? by Stefan Gleason – Money Metals
TDC Note – As we saw last week before the FOMC meeting both gold and silver were on a rocket to the moon. The mo-mo monkeys stepped in and both metals began moving sideways. The metals moved sideways as all the traders were still in the "market" and responding to pre-FOMC talk of the Fed actually raising rates, which they did. As soon as the "market" closed, these fascist manipulators went to work and down came the metals. If precious metals were allowed to free float in a free market the move that began as soon as the market opened would have continued throughout the day and quiet possibly would still be rising now. With that said, silver and gold are both poised for much higher moves as the year progresses.
####
This spring, gold vastly outperformed silver, leaving the white metal looking for direction. The silver chart shows prices winding up within a huge wedge pattern.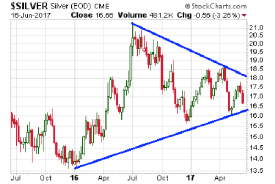 As the trading range gets narrower and narrower, it sets up a resolution in the form of a very strong directional move one way or the other.
A few more weeks of consolidation are still possible before a decisive break out from the pattern.
In 2016, silver was very strong in the first half of the year and weak in the second half. The first half of 2017 has been something of a wash, setting up something potentially big in the back half of the year.
loading...
Sharing is caring!