Get Ready for Brexit II
Get Ready for Brexit II by Jim Rickards – Daily Reckoning
Markets were shocked when UK voters chose to leave the European Union, EU, on June 23, 2016. That was the so-called "Brexit" or British exit from the EU. Within hours of the vote becoming official, the pound sterling, GBP, plunged 13% against the dollar, and gold soared 8% in dollar terms, even more measured in GBP.
I was among the few to prepare investors for that shock. In the days before the vote, I urged my readers to short GBP and buy gold. Those who did made huge gains. Some readers even wrote to me to say thanks for paying their kids' college tuitions for that year — that's how much money they made.
Now a new political and economic earthquake is about to hit the UK. Think of it as "Brexit II." The market shocks will be just as great as the original Brexit almost a year ago today. And the opportunities for huge gains in the UK now are as great as they were during Brexit.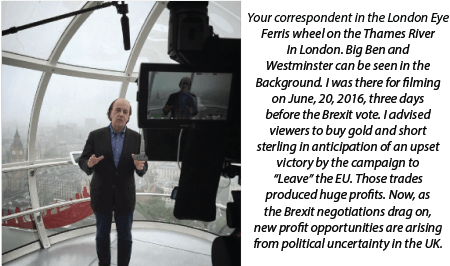 In the months that followed the Brexit vote, markets stabilized, as is often the case after a shock. GBP fell from $1.49 the day of the vote to $1.21 a few months later. Since then it has traded in a narrow range of about $1.20 to $1.30.
The UK stock market as measured by the FTSE 100 index also fell sharply in the immediate aftermath of the original Brexit vote. The FTSE 100 index fell from 6,338 the day of the vote to 5,982 just a few days later; a 5.6% drawdown.
But, then stocks sounded the "all clear" siren. The FTSE quickly made up its lost ground and got back to pre-Brexit levels within a few days. Markets saw that Brexit was not an instantaneous process, but would take years to negotiate.
The Prime Minister who called for the Brexit vote, David Cameron, quickly resigned after the vote and a new Conservative government was formed, led by Theresa May. There was hope for a so-called "soft" Brexit where the UK would formally leave the EU, but retain many of its free trade and tariff benefits in exchange for some concessions on immigration.
Since last summer, the FTSE has gone on to achieve a new all-time high of 7,547 and still trades very close to that high as of today. The high represents a stunning 26% rally in less than one-year from the post-Brexit lows. This rally was based on better than expected growth in the UK, lower than expected inflation, and indications that Theresa May had the Brexit negotiations well in hand.
loading...
Sharing is caring!