There Have Been 296 Earthquakes In The Vicinity Of The Yellowstone Supervolcano Within The Last 7 Days
There Have Been 296 Earthquakes In The Vicinity Of The Yellowstone Supervolcano Within The Last 7 Days by Michael Snyder – End of the American Dream
Is it possible that the Yellowstone supervolcano is gearing up for a major eruption? If you follow my work on a regular basis, then you already know that I spend a lot of time documenting how the crust of our planet is becoming increasingly unstable. Most of this shaking is taking place far away from the continental United States, and so most Americans are not too concerned about it. But we should be concerned about it, because a major seismic event could change all of our lives in a single instant. For instance, a full-blown eruption of the Yellowstone supervolcano would have the potential of being an E.L.E. (extinction level event). That is why it is so alarming that there have been 296 earthquakes in the vicinity of the Yellowstone supervolcano within the last 7 days. Scientists are trying to convince us that everything is going to be okay, but there are others that are not so sure.
The biggest earthquake in this swarm occurred last Thursday evening. It was initially measured to be a magnitude 4.5 earthquake, but it was later downgraded to a 4.4. It was the biggest quake in the region since a magnitude 4.8 earthquake struck close to Norris Geyser Basin in March 2014. This magnitude 4.4 earthquake was so powerful that people felt it as far away as Bozeman…
The main quake was centered about 5.8 miles underground.

The quake and aftershocks occurred just over 8 miles northeast from West Yellowstone, according to the U.S. Geological Service.

A witness reported that she felt the building she was in move.

Dozens of people reported that they felt it in and around West Yellowstone, Gardiner, Ennis, and Bozeman.
But by itself that one quake would only be of minor concern. What is troubling many of the experts is that this earthquake has been accompanied by 295 smaller ones.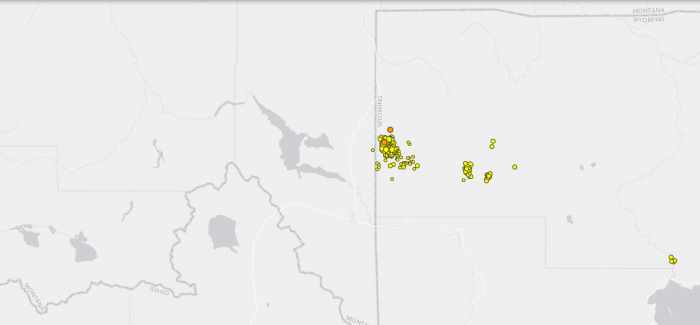 There is normally a rise in seismic activity before a volcano erupts, and according to theoretical physicist Michio Kaku, a long overdue eruption at Yellowstone could "rip the guts out of the USA"…
Scientists currently believe that there's a 10% chance that a "supervolcanic Category 7 eruption" could take place this century, as pointed out by theoretical physicist Michio Kaku who appeared on a segment for Fox News.

The grey haired physicist told Shepard Smith that the "danger" we are now facing with the caldera is that it's long overdue for an eruption which Kaku said could "rip the guts out of the USA."

Kaku said that a "pocket of lava" located under the park has turned out to be twice as big as scientists originally thought.
I would like to try to describe for you what a full-blown eruption of the Yellowstone supervolcano would mean for this country.