'Blood On Their Hands' – MSM Stoked The Fire Of Violence
'Blood On Their Hands' – MSM Stoked The Fire Of Violence by Susan Duclos – All News Pipeline
TDC Note – I, along with a great many others, have been questioning why these violent hooligans have been allowed to roam the streets. If you remember Mark Dice made a series of videos showing all the assassination threats coming from people around the country – nothing ever discussed on the presstitute lying media, nothing ever said by the Obama White House (Obama was still in office when a lot of this was happening). The presstitute lying media is complicit in their silence. The presstitute lying media is one of the enemies of this country – the banksters are the real enemies as the banksters own the mega media. Let's not lose focus on who the real enemy is to our country – it is the banksters.
####
– It Is Now Time To Fight Back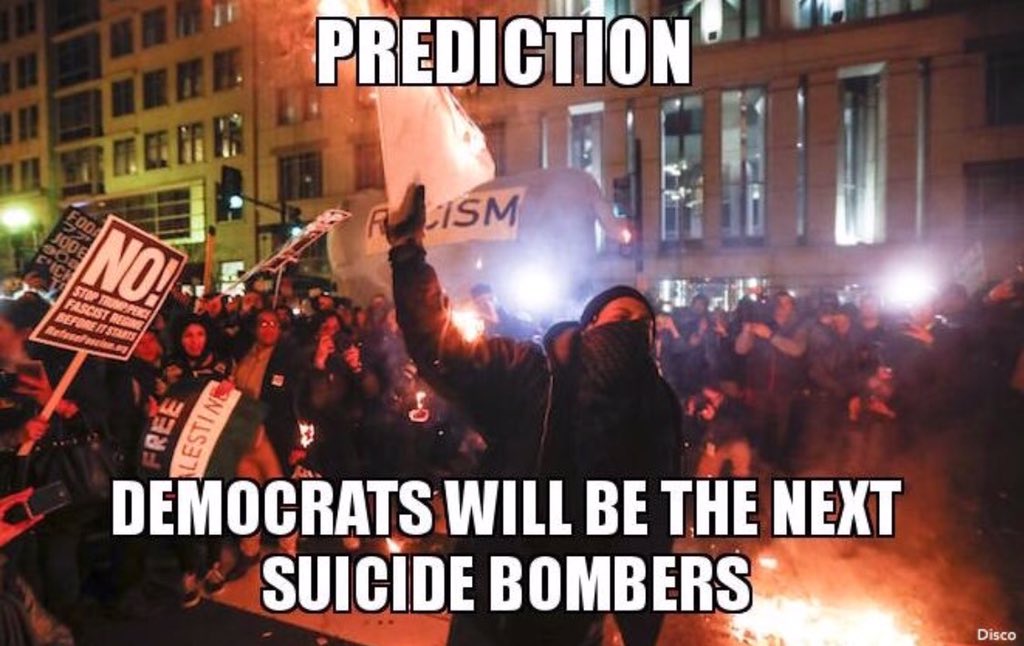 By Susan Duclos – All News PipeLine
On Wednesday ANP highlighted multiple examples of the MSM deliberately stoking violence against the GOP, President Trump, his supporters and conservatives across the nation, with deliberately "fake news" stories, but now we see that in the case of the New York Times, they quite literally highlighted "members of Congress practice in the early mornings in an Alexandria, Va., public park for their Congressional Baseball Game," linked to the website selling tickets for the event, as well as how to spot the United States Capitol Police that would be there for protection, two months before a shooter opened fire on them, injuring multiple people with one Republican Congressman now in critical condition.
Via NYT, April 12, 2017: (Link to Archive page URL)
But when the billionaire Wilbur L. Ross Jr., the commerce secretary, goes to dinner at a fancy Georgetown restaurant, bodyguards sit nearby. When members of Congress practice in the early mornings in an Alexandria, Va., public park for their Congressional Baseball Game, plainclothes United States Capitol Police are sitting there in a black S.U.V.
Coincidentally, April was also the month the Alexandria shooter James Hodgkinson, "just packed up and moved out" of his home, leaving his wife of 30 years, and moved to the area where the shooting occurred.
On Wednesday we covered a number of times an incorrect, false, debunked storylines, commonly referred to these days as outright "fake news," pushed by the MSM, incited violence, riots and attacks against conservatives over the last two years. We now note a number of other instances to which the hailed "resistance" being pushed by the MSM, liberals and Democrats, has been an ongoing and deliberate attempt to anger and incite violence, leading that "resistance to go "live fire," as Ann Coulter so succinctly puts it.
The explosion of violence against conservatives across the country is being intentionally ginned up by Democrats, reporters, TV hosts, late-night comedians and celebrities, who compete with one another to come up with the most vile epithets for Trump and his supporters.
The whole piece is a must read as Ann documents how horrified the liberals and media were when they thought Trump might not accept the election results if Hillary Clinton had won the election, yet these same people are now doing everything in their power to call for "resistance" because of their own inability to accept the election results.
MSM STOKING THE FIRE OF VIOLENCE
In order to understand the sheer viciousness of what the MSM has been doing, we have to step back a little, widen the picture.
For example, before the election, back in February 2016, a journalist for the New York Times caught a lot of heat for joking about assassinating Donald Trump.
Ross Douthat tweeted Wednesday night, "Good news guys I've figured out how the Trump campaign ends" along with a clip from a little-known movie, "The Dead Zone."

In the 1983 flick, Christopher Walken plays a man who can see the future and knows that a US Senate candidate, portrayed by Martin Sheen, will eventually become president and start a nuclear war.
Let us not forget Rachel Maddow over at MSNBC who tweeted  in January 2017, "Donald Trump has to be taken out before he ruins our country."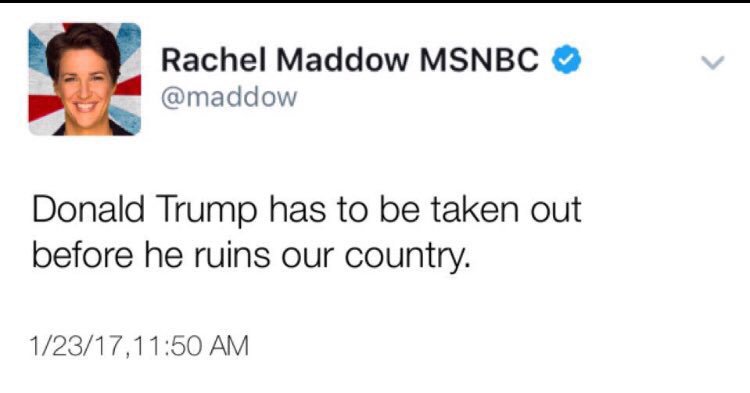 Is it any surprise the shooter was  super Rachel Maddow fan, who wrote in a letter to the editor at Belleville News Democrat "One of my favorite TV shows is 'The Rachel Maddow Show' on MSNBC."
In January 2017, another Times journalist, India Knight, called for President Trump's assassination, as well.
Via Daily Wire:
In a hastily-deleted tweet, the liberal pundit said this: "The assassination is taking such a long time."

Now, we won't even get in to what would have happened if a conservative had called for President Obama's assassination. We already know how that would have gone. But ponder this: Why haven't you read this anywhere else? Why isn't this all over the news?