The Next Leg of the Great Gold Rally
The Next Leg of the Great Gold Rally by Byron King – Daily Reckoning
Even with gold's recent pullback from $1,290 last Thursday to $1,269 today, gold prices are up almost 20% since the beginning of 2016.
Gold stocks also rocketed up before settling back into the current range.
In today's Daily Reckoning, we're going to look at how much upside we could experience from here…
Before we look ahead, though, let's take a brief look back. Below is a chart depicting the past 17 months of gold and mining stock price movement, since the beginning of 2016.
The chart shows the price of gold ($GOLD) versus a well-run exchange traded fund, the Sprott Gold Miners ETF (SGDM).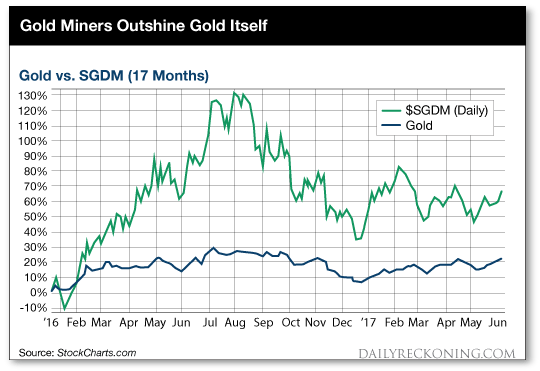 As you can see, miners had a great run in 2016, certainly through August. Since then they've pulled back.
But the point is we're still looking at a healthy market.
Fundamentals are good across the gold mining space. They're trading in a range for now while markets figure out what happens next.
The recent rally is even more dramatic when you look at how deep in the tank things were back before 2016.
Here's a similar chart depicting the past four years of price movement using the same comparison: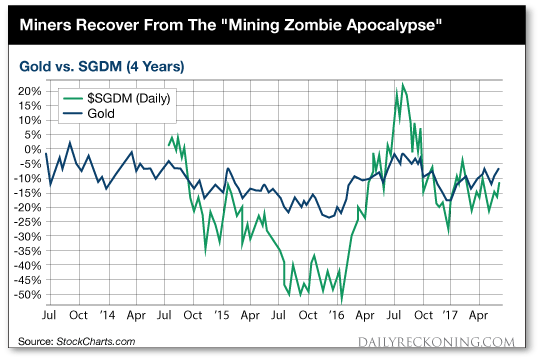 Clearly, gold and mining shares were way down in 2014 and 2015. We lived through a historic bear market — the Mining Zombie Apocalypse, as I call it.
The recovery and breakout between January and August 2016 created a lot of new wealth. Yet the pullback since last August has placed the overall market into a long trading range.
Highs and lows are narrowing, so sooner or later, we're due for some sort of breakout.
The logical question to ask is what could the upside be from here?
For each of the past 11 years, an investment firm called Incrementum has issued a well-regarded summary of gold entitled In Gold We Trust. The 2017 edition was released earlier this month, and it's packed with insights making the positive case for gold.
loading...
Sharing is caring!