President Trump Brings Down Deep State Operative As Liberal Lawyers Brutally Shred Comey And Media Narrative
President Trump Brings Down Deep State Operative As Liberal Lawyers Brutally Shred Comey And Media Narrative by Susan Duclos – All News Pipeline
Unable to acknowledge that Donald Trump beat the candidate that Democrats, liberals, the MSM (yes I know that is redundant since the MSM is the media arm for Democrats) and the "Deep State" supported in the November 2016 presidential election, they have all run from one narrative and storyline to the next, from "we need a recount" to "lets send death threats to the electoral college" to "lets shut down the inauguration,"" to "Trump is under investigation for collusion with Russia.
All have failed.
Then they pinned their last great hope on former FBI director James Comey, only to have him confirm the President was never under investigation, and Comey admitted to violating federal law as well as the FBI employment agreement, according to Jonathan Turley, who is the Shapiro Professor of Public Interest Law at George Washington University and has served as defense counsel in national security cases involving classified information and alleged leaks to the media.
LIBERALS TRY TO MOVE THE GOAL POSTS
After Jill Stein and Hillary Clinton's attempt to nullify the election by insisting on recounts in states that Donald Trump won despite the MSM informing the general populace that Hillary Clinton couldn't lose those states, failed, and death threats against the electoral college members also failed, as did the massive protests meant to "shut down the inauguration, the next narrative became "Trump/Russia collusion" with multiple MSM outlets and liberal websites insisting that their "sources" told them President Trump was under investigation.
We now know none of those "Trump is under investigation" claims were true, although interestingly enough, the same outlets that reported that "fake news" haven't acknowledged to the same readers they misinformed, that Trump was never under investigation at all.
If they were hoping that their prior reports would simply fade into obscurity, National Review offers a variety of headlines and screen shots of articles written since Donald Trump was inaugurated.
Salon, on Inauguration day, headlined "The FBI is leading an investigation into Donald Trump's connections with Russia."
Center for American Progress, March 20: "The FBI is investigating a sitting President. Been a long time since that happened."
The New York Times March 20 headline: "F.B.I. Is Investigating Trump's Russia Ties, Comey Confirms."
The Atlantic, March 20 headline: "It's Official: The FBI Is Investigating Trump's Links to Russia."
Huffington Post, March 20: "we have a president under FBI investigation. How do you like that?"
March 20 headline: "James Comey Confirms the FBI Is Investigating Trump's Russian Connections."
Crooks & Liars, March 21 headline, quoting MSBNC's Joe Scarborough: "On Election Day, Trump Was The ONLY ONE Under FBI Investigation, Not Hillary Clinton."
Slate, March 22 headline: "The President Is Under FBI Investigation. Is This Normal?"
The Guardian, March 22 headline: "Donald Trump is under investigation for ties to Russia. What happens now?"
More at National Review.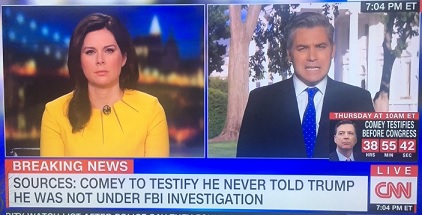 (Image- CNN Reports fake news….again!)
The day former FBI director James Comey released his prepared statement prior to his long-awaited testimony in front of the Senate Intelligence Committee, even CNN blared the headline "Comey expected to refute Trump," where they opine that according to their "sources" Comey would contradict Trump's assertion that he was informed by Comey, on three occasions, that he was not personally under FBI investigation."