Buy, Buy, Buy! Toronto Homes Priced in Gold
Buy, Buy, Buy! Toronto Homes Priced in Gold by Rory, The Daily Coin
Do you own a calculator? My guess is the computer in which you are reading this is equipped with a simple calculator designed to perform basic math. If so, can you please add 2 + 2 and let me know what that totals according to your calculator? Thanks for your help.
Apparently the "journalist" at Bloomberg are issued computers void of a calculator or they believe we are so ignorant that we can't do simple math. Sorry, bud, our brains may be damaged, however, we can still read and perform basic math calculations.
The Toronto housing market is imploding due to several reasons. One of which is government intervention that has crushed the inflow of foreign investors, primarily Chinese investors.
Bloomberg released an article to demonstrate how the housing market is nowhere near a top if houses are priced in gold. First, why would Bloomberg or the "chief economist at the Bank of Montreal" use gold to measure a market if gold is nothing more than a commodity? Gold is money, Bloomberg and Douglas Porter knows it and that is the reason they did this comparison. Bloomberg, nor the Bank of Montreal, would never, ever say that or even hint at that fact, but ask yourself why would gold be used to compare to fiat currency to "purchase" a home? Why not use pork bellies, wheat, corn or steel? These are all commodities. Because none of these items are money, they are pure commodities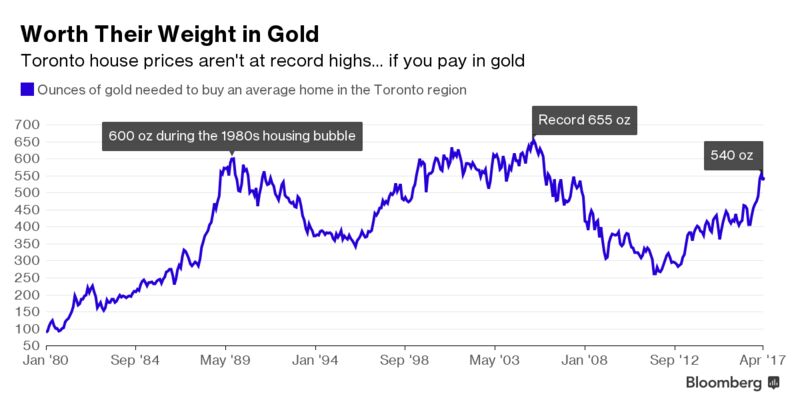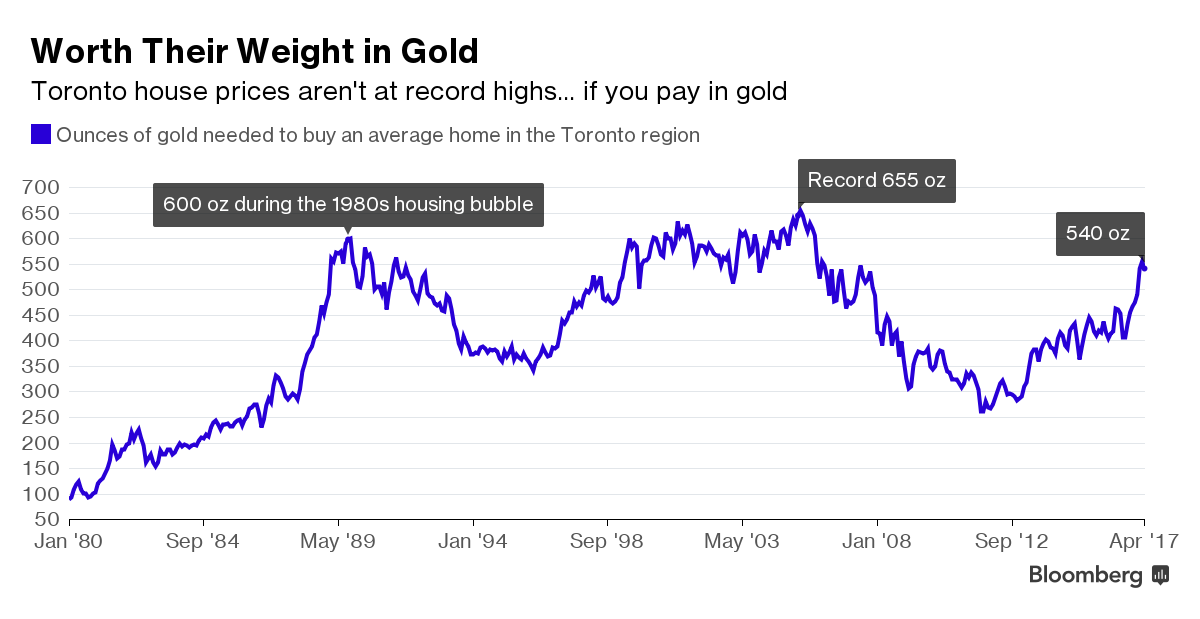 In 2005, the year Bloomberg chart uses to compare to 2017, gold ranged from a low of approximately $410/ounce and hit an intraday high of approximately $535/ounce. Gold was only above $500 for a short period in 2005. It appears gold averaged somewhere around $444/ounce for most of 2005.
Simple math – 655 ounces times $444 equals $290,820 in 2005.
In the first 5 months of 2017 gold has averaged approximately $1,230/ounce or slightly higher. Gold has only been below $1,200 during the month of January and averaged $1,192/ounce. So far, it appears, simple math is off the table.
Simple math – 540 ounces times $1,230 equals $664,200 in 2017. Even accounting for inflation that is somewhat high. If one uses "official" inflation it is extremely out of balance with the song-and-dance this article is selling.
According to another article, Toronto home prices soar a record 33%, pushing average house to $916,000, produced in April 2017, you know a mere 8 weeks ago to show how home prices have sky-rocketed. Do they just make up whatever stories will keep people buying on any given day. The author doesn't even bother to use readily available information to corroborate the story!!
More simple math –  in 2017 median home price in Toronto $916,000 divided by $1,230/ounce/average gold equals 744.71 ounces of gold, which is far above the 655 ounces used for a base to convince people to get out a buy a house!. Any way one reviews this piece of nonsense it is exactly that, nonsense.
This is the opening to the article in question, How Much Gold Would Buy a Home in Toronto, published by Bloomberg
Toronto homes aren't that expensive, if you pay in gold.

Douglas Porter, chief economist at the Bank of Montreal, mined data showing that when expressed in terms of gold, house prices in Canada's red-hot real estate market are far from record highs. An average home in Toronto today costs just over 540 ounces of gold, well below the record 655 ounces in 2005, Porter found. Source
As noted earlier, why is this "chief economist" hack discussing "paying" for anything with gold, much less something as significant as a house? Could it be the Toronto market, along with most all of Canada's housing market, is imploding and it could never, ever be due to government intervention or the absolute fact the economy has fallen off a cliff and there needs to something, anything, that shows people "now is the time" to buy!?!
The Canadian housing market, as Wolf Richter and many others have shown, is dying a very rapid death. Once the 15% "foreign investor tax" went into place the housing market rolled over and died.
No, the good little puppets at Bank of Montreal and one of the larger presstitute media outlets is doing it's part to help keep the debt serfs on the farm and leveraged to the hilt with debt they can't afford in a house that is way overpriced – especially when expressed in terms of real money – gold.
To be sure, sanity seems to be returning to Toronto's property market. After a double whammy of government intervention and the near-collapse of mortgage lender Home Capital Group Inc., sellers are rushing to list their homes to avoid missing out on recent price gains. Source
As the clown running the European Central Bank said a couple of years ago – "Whatever it takes."
And so it goes, simple math proves these idiots are nothing more than a mouth-piece for the robber baron hucksters attempting to separate us from our wealth.