A Clear and Present Danger
A Clear and Present Danger by Bob Bauman – Banyan Hill
Some American college campuses have become breeding grounds for anti-free speech and politically correct zealots, some totally deranged to the point of using physical violence and property destruction to prevent speakers they oppose.
Recent alarming examples include conservative columnist Ann Coulter's speaking at University of California, Berkeley, and author Charles Murray's lecture at Middlebury College — both prevented by physically violent student actions.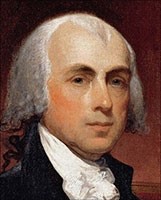 James Madison
Celebrity speech fights get headlines, but too often university officials or student governments restrict student speech, as in Kansas, Alabama, Colorado and West Virginia. For example, the University of South Alabama tried to force a student to take down a "Trump/Pence 2016" sign from his dorm room.
Ignored in media reporting, a new survey shows that an overwhelming majority (92%) of millennials (ages 18 to 34) support free speech.
Sadly, some American officials seem to share the campus protestors' abysmal ignorance of the U.S. Constitution, including the First Amendment's free speech guarantees, which are part of the Bill of Rights authored by James Madison.
Hindering Free Speech
Free speech in America is not an absolute right.
In Schenck v. United States (1919), the U.S. Supreme Court invented the "clear and present danger" test that determines limits on free speech. That was the origin of the "falsely shouting fire in a crowded theater" test; speech that is dangerous and false is not protected, as compared to speech that some may view as dangerous, but that also may be true. That test certainly does protect free expression of opinion on college campuses or elsewhere.
My interest in this campus free speech battle was intensified by seeing a live televised May 21 commencement address at the University of Notre Dame by Vice President Mike Pence, in which he warned against attacks on free speech on college campuses. He said: "Administration-sanctioned political correctness … should not be met with silence," and encouraged students to speak up against "the increasing intolerance" toward opposing views.
loading...
Sharing is caring!