Seth Rich's Cousin: 'He Knew Something' Cryptic Tweet Deleted
Seth Rich's Cousin: 'He Knew Something' Cryptic Tweet Deleted As Dem 'Crisis Communications' Agent Melts Down On Twitter Over DNC Staffer's Murder Exposure by Susan Duclos – All News Pipeline
ANP was going to wait until tomorrow to follow up on Sunday's explosive news about the DNC staffer that was murdered last July amidst the Wikileaks revelations about the DNC and the Clinton campaign rigging the primaries, but the amount of breaking news since yesterday, has pushed this to the forefront.
For those that did not read yesterday's piece titled "MSM Attempts To Kill 'Murdered DNC Staffer Story,' And Instead Blows Up The Internet,"  a very brief summary because quite a of new information has become available since then.
QUICK SYNOPSIS
Washington Post attempted to label the recent revelations by a former DC homicide detective investigating Rich's murder, saying he discovered Seth Rich was communicating with Wikileaks, as a "conspiracy theory," when Internet entrepreneur KIMDOTCOM revealed that Rich was the source of the leaks to Wikileaks, Kim himself was involved and offered congressional testimony, with Sean Hannity then publicly inviting him to his show to discuss it.
There is much more showing Kim had prior knowledge going back to 2014, but since then, a number of revelations have come out, so… moving along.
RICH'S COUSIN DELETES CRYPTIC TWEET ABOUT SETH RICH'S MURDER – "HE KNEW SOMETHING"
On May 15, 2017, Sean Hannity shared a Fox 2 news report titled "Family's private investigator: There is evidence Seth Rich had contact with WikiLeaks prior to death," asking "Thoughts twitter??"
Seth Rich's cousin, Jonathan Rich, less than an hour later, responded to Hannity stating "First thing I said when my Dad told me was he knew something and he was murdered. The rest of the family thought I was nuts. See last name." The next day user Andy Rich reprimanded Jonathan, saying "This is not the place & not a topic for you to comment on. I love you but filter bro. #family"
Jonathan's tweet was deleted shortly after, but the internet is forever, and it was archived, screen shot below, and link to archive here.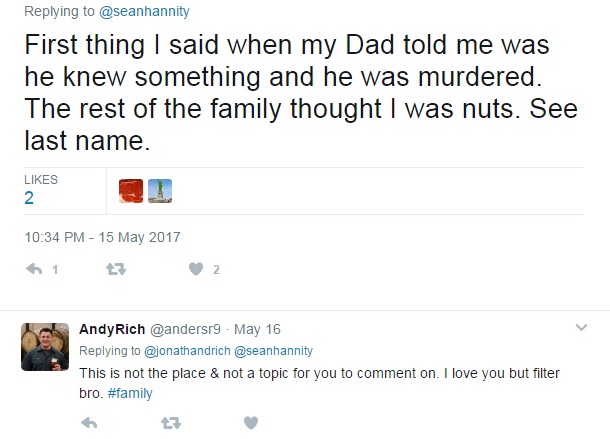 Following Jonathan's initial response to Hannity and before he was reprimanded by Andy Rich, he also responded to actor James Woods, who asked "When will the #Russia gag start to wear thin? We are so over this baseless whining. Aren't the #ToddlerTantrums wearing the #lefties out?," by answer with "Maybe tomorrow when the #SethRich story hits Fox News."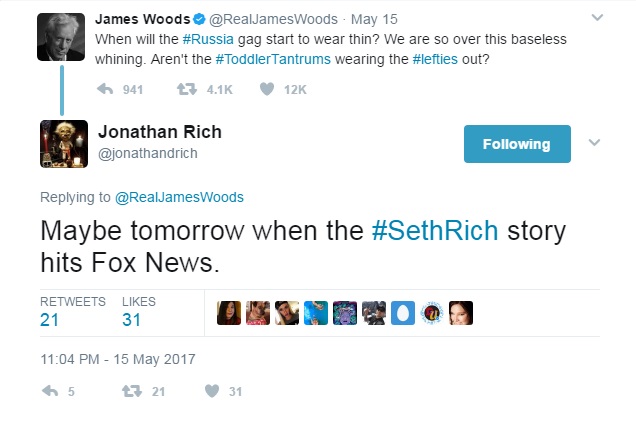 Despite deleting his initial tweet, on May 21, 2017, after the Internet blew up with the Seth Rich story again, and Wapo tried to kill it, Jonathan then retweeted another Hannity message that said "@KimDotcom ANNOUNCEMENT COMING. All please follow @KimDotcom for further details."

Jonathan's interest nor his opinion is new, as back in November 2016, he responded to a tweet linking to a podcast that asked, "Why do people close to Hillary & Bill Clinton tend to end up dead in weird ways?," with three words "like my cousin." (H/T Big League Politics)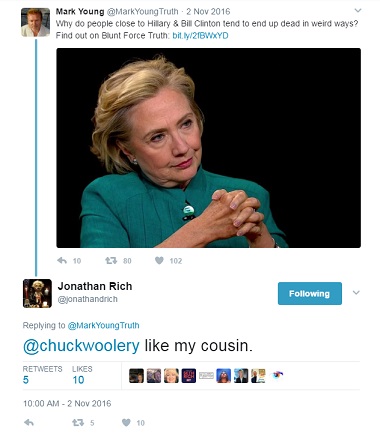 Related: The Seth Rich Case
DEMOCRATIC 'CRISIS COMMUNICATIONS' AGENT HAS TWITTER MELTDOWN OVER RECENT MURDER EXPOSURE
In August 2016, Wikileaks highlighted the fact that a man named Brad Bauman was the Rich family's new "spokesman," and described him as "a professional  Democrat crisis PR consultant." According to his LinkedIn page, Bauman's experience is listed a a partner for The Pastorum Group and "Managing a crisis communications and full service public relations firm," as well as being a communications consultant "Providing strategic communications advice to Democratic candidates and labor unions." Both those positions are listed as current.