Used Vehicle Trade-in Values Sink, Hit New Vehicle Sales
Used Vehicle Trade-in Values Sink, Hit New Vehicle Sales by Wolf Richter – Wolf Street
More #Carmageddon data – and its impact.
This is just relentless: Wholesale prices of used vehicles up to eight years old going through auctions across the US dropped another 1.5% in April from the prior month.
It pushed the seasonally adjusted Used Vehicle Price Index by J.D. Power Valuation Services (formerly known as NADA Used Car Guide) down to 109.9. The 10th month in a row of declines.
The index is down 7.1% year-over-year and down over 13% from its peak in mid-2014. It's at the lowest level since September 2010, when prices were still spiking from the cash-for-clunkers program which had eliminated a whole generation of often perfectly good cars. In that sense, values are just now beginning to normalize (chart by J.D. Power Valuation Services):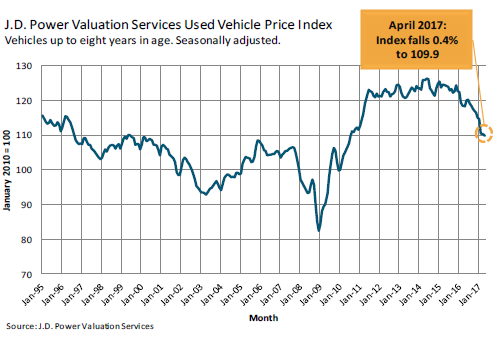 According to the report, "the used market continues to experience negative pressure from a struggling new market."
This decline in used vehicle values is confirmed by the Consumer Price Index. According to the Bureau of Labor Statistics, used car and truck prices fell 4.6% in April over the past 12 months. It was the only major category with a significant 12-month decline. There were two other major categories with declines, but declines were small: the index for food at home inched down 0.8% and the index for commodities less food and energy inched down 0.6%. So the sharp drop in used vehicle prices stands out.
Will the Fed worry about these used vehicle prices as a sign of deflation? Nope. It's a sign of an oversupplied and still overpriced market. As prices drop, more buyers will emerge and the oversupply will work its way out of the system, but at the expense of new vehicle sales.
This is already happening. New vehicle sales in April dropped 4.7% year-over-year. For the first four months, sales are down 2.4%. This decline has occurred despite automakers' record but apparently futile spending on incentives to crank up the market.