Craig Hemke of TF Metals Explains Silver Manipulation Like NEVER Before (Podcast)
Craig Hemke of TF Metals Explains Silver Manipulation Like NEVER Before Podcast – Money Metals
Coming up you'll hear a tremendous interview with Craig Hemke of the TF Metals Report. Craig pulls no punches in calling out the foolish speculators who inadvertently perpetuated the silver price manipulating schemes by continuing to make bad bet after bad bet in the futures market. He'll explain what's been happening and what it will take to bring the whole flawed price discovery mechanism down. You simply will not want to miss a truly fantastic interview with Craig Hemke, coming up after this week's market update.
Despite a rough several weeks in metals, the mining stocks may be pointing the way forward for gold and silver markets.
The GDXJ junior gold stocks ETF had been the source of some of the selling that hit the sector over the past few weeks. After acquiring outsized positions in small cap stocks, the fund become too large of a shareholder in some thinly traded names. GDXJ moved to re-allocate its portfolio, and in the process it adversely moved the market.
But this week the mining stocks rallied. Through Thursday's close the GDXJ was up more than 6% for the week.
The rally in the mining sector may be signaling that the recent slump in gold and silver prices is coming to end. The silver market got hit especially hard, dropping 15% from its April high. It finally ended a 16-day losing streak earlier this week.
As of this Friday recording, silver prices trade at $16.47 per ounce and are putting in a weekly gain now of 0.3%. Gold checks in at $1,230 an ounce, unchanged now for the week. Turning to the platinum group metals, platinum is up 0.5% since last Friday's close to trade at $922. Palladium is down 1.5% to trade at $805 an ounce.
The technical picture for the yellow metal still looks strong — believe it or not — with prices holding above their March lows during the recent decline. So far gold is making a higher low in a classic stair step rally.
Silver's chart doesn't look so good, with prices sitting well below the March and February lows. Yet despite the damage done, silver is still trading slightly above where it started the year. Perhaps the market will find ample buying support at these levels.
Some analysts are looking for a major bottom to come next month. Others think the selling has already run its course. The near-term outlook for precious metals is always difficult to gauge because it is more dependent on the behavior of large institutional traders in the futures market than it is on fundamentals.
Ultimately, the fundamentals do matter. But they may take some time to be fully reflected in prices. For long-term precious metals bulls, the good news is that supply and demand fundamentals are turning in their favor.
Even though bullion demand in the United States has softened since the election last year, demand is ramping up in Asia. Chinese gold imports surged in the first quarter of 2017. Gold imports to India jumped 342% this April compared to last year. Gold jewelry buying in the world's second most populous nation is coming back strongly after currency controls and import restrictions crimped demand last year.
Meanwhile, major central banks including those of Russia and China continue to steadily add gold to their monetary reserves.
On the supply front, gold and silver mining production is likely to go into decline. For silver, the decline began last year. The Silver Institute's World Silver Survey 2017 was released on Thursday and it paints a bullish long-term picture based on silver's supply and demand fundamentals.
Here's some of what Silver Institute president Mitchell Krebs told Bloomberg radio:
Mitchell Krebs:

The good news, for sure, is that silver supply, for the first time in 14 years, actually declined last year. So, that's a big deal. Not by a lot, but it's now declining and it's expected to continue to decline, which basic supply and demand fundamentals suggest that that's a positive tailwind for silver going forward. It's the fourth year in a row now where we've been in a structural deficit, where demand has outstripped supply. That's another positive. I'd say on the demand side, solar panel demand hit an all-time high, it was up 34% last year. And that's a market that we think will continue to grow.
There's certainly going to be a lot of growth in the years ahead in solar panels and other energy technologies that require silver. The wild card is investment demand. If it returns to the highs seen during the Obama years, we can expect wider deficits in the physical market and possible shortages in the retail market for coins, rounds, and bars.
Given the potential for demand to vastly outstrip supply in the silver market going forward, don't count on the current low prices being sustained for much longer. The recent price dip orchestrated in the futures market represents a fantastic buying opportunity in the physical market.
Well now for more on what's been driving the recent decline in silver, the shenanigans at play in the paper derivatives market and what's ahead for the white metal, let's get right to this week's exclusive interview.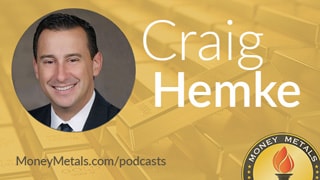 Mike Gleason: It is my privilege now to welcome in Craig Hemke of the TF Metals Report. Craig runs one of the most highly respected and well-known blogs in the industry, and has been covering the precious metals for close to a decade now. And he puts out some of the best analysis on banking schemes, the flaws of Keynesian Economics, and the evidence of manipulation in the gold and silver markets.
Craig, it's great to have you back with us and thanks for joining us again today.
Craig Hemke: Hey Mike, it's always a pleasure. I appreciate the invite.
Mike Gleason: Well, here we are with metal sliding backwards once again. We got off to a great start in 2017 but most of those gains evaporated in the past couple of weeks, especially for silver. The pattern is all too familiar, Craig. Open interest in the silver, and silver made new record highs. The bullion banks sold fresh paper contracts to anyone who wanted one, unconstrained by having to back all the paper with actual metal.
Now prices are falling with a healthy push from these banks. And they're covering their shorts with a tidy profit. All of this just underscores and highlights how the price discovery in precious metals is completely broken and corrupt; a topic you have been focused on for years. Tell listeners who may not be familiar with how the bullion banks rig this game. And do you think they will ever run out of people who are willing to play in their crooked casino?