Possible Comey Replacement Recently Said: 'If Trump Made Me His FBI Director, I Would Be Arresting Hillary Clinton Today'
Possible Comey Replacement Recently Said: 'If Trump Made Me His FBI Director, I Would Be Arresting Hillary Clinton Today' by Susan Duclos – All News Pipeline
With fired former FBI Director James Comey saying he learned that he was fired on Tuesday by President Donald Trump from a TV news report, claiming at first that he thought it was a joke and he'd been pranked, speculation has already begun about who may be Comey's replacement with a senior FBI official saying they were shocked and "had no idea that this was coming".
As Heavy reported on Tuesday, 5 names that are receiving rampant speculation over who might be the next director of the FBI include South Carolina Rep Trey Gowdy (the favorite of many!), New Jersey governor Chris Christie, former NY police department head Bill Bratton, former New York city mayor Rudy Giuliani (though he has allegedly ruled himself out) and another favorite of many, Milwaukee, Wisconsin Sheriff David Clarke Jr.
While their story goes on to report it seems unlikely the search would end with Clarke as he doesn't have much experience as a prosecutor or an investigator, much crazier things have already happened during this brief administration and if firing Comey was throwing a huge chunk of red meat to his 'base', bringing on Clarke to be his head of FBI might light the fire that carries Trump into 2024.
As Infowars recently reported as also heard in the 1st video below, back on May 6th and days prior to Comey's firing, Sheriff Clarke made some very interesting remarks as seen in the screenshot from Twitter seen at the top of this story. Now, compare that tweet with the tweet below from the former manager of Hillary Clinton's campaign.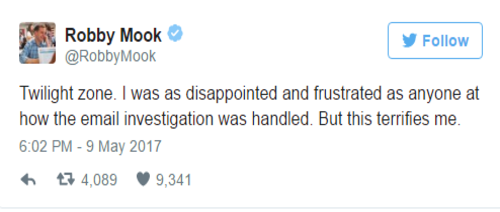 While much of the left goes into total meltdown mode over Comey's firing, claiming that President Trump may be interfering with an ongoing investigation of his own alleged ties to Russia, the response from former Hillary Clinton campaign manager Robby Mookprobably tells us the real tale of why the Democrats are going nuts over this firing. Claiming that 'he's terrified', might the 'Clinton machine' be about to go down?
While strong arguments are being made for other candidates, Sheriff Clarke has long been known as President Trump's favorite sheriffand if the 'political gloves' are really going to come off in 2017 and the 'swamp' is really going to be drained, Sheriff Clarke may be the best person for the job.
A visit to Sheriff Clarke's Twitter page (partially seen in the screenshot below) gives us a small taste of why Clarke is so well liked by tens of millions of Americans, appropriately nicknamed 'The People's Sheriff', especially for those who who feel they've been targeted by the prior admininstration for sporting 'Don't Tread on Me' bumber stickers on our cars or for flying our American flags or being preppers, Conservatives or Christians.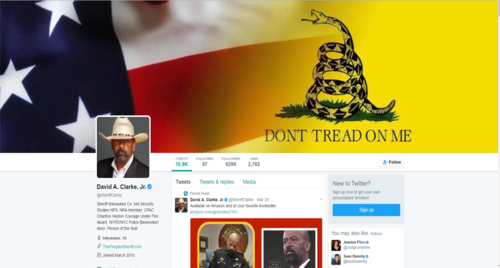 Cowboy hat wearing Clarke has long let the American people know that he loves America and by sporting his own 'Don't Tread On Me' flag on his Twitter page, Clarke shows he obviously doesn't stand for 'political correctness'.
As we've previously reported on ANP, Sheriff Clarke has taken on Black Lives Matters, urged black people to boot troublemakers out of their own communities while blaming the progressive left for riots across America in recent years. From an August of 2016 story: