Tornado Alley, Tornado Facts, And How They Form
Tornado Alley, Tornado Facts, And How They Form by Ken Jorgustin – Modern Survival Blog
Tornadoes occur mostly in the United States. On average, 1,200 tornadoes cause 1,500 injuries and 65 fatalities per year in the U.S. (source: spc.noaa.gov)
Here's more about "tornado alley", tornado facts, and how they form:
Where is Tornado Alley?
Tornado Alley is an area of the United States where tornadoes are most frequent.
Although the official boundaries of Tornado Alley are not clearly defined, its core extends from northern Texas, Oklahoma, Kansas, into Nebraska.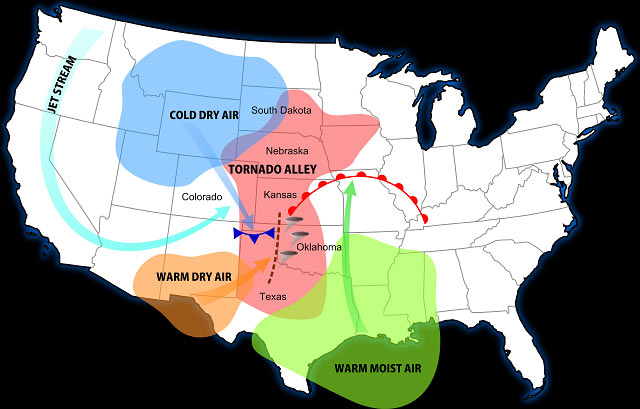 source: Wikipedia.org
Note: Tornadoes don't form just in tornado alley!
Important!
Midland WR120-EZ NOAA Weather and All Hazard Public Alert Radio
Where do Tornadoes form in the United States?
The following map of tornado activity in the United States is a summary of recorded EF3, EF4, and EF5 tornadoes between 1950 – 2006.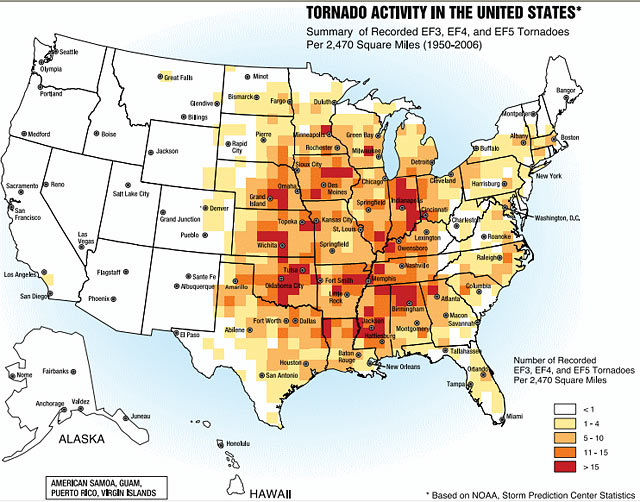 Related: Tornado Season
Historical Record of Tornado Tracks (1950-2011)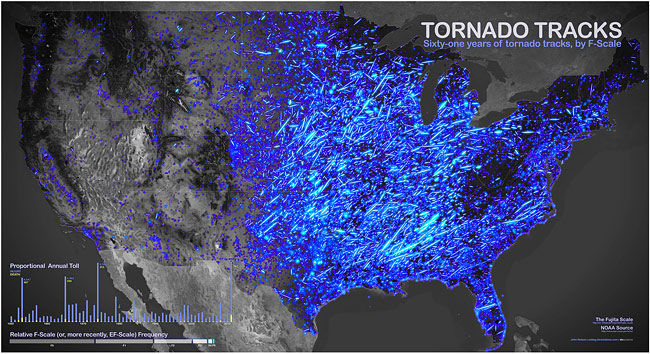 Image: uxblog.idvsolutions.com
Full size image (1920×1046)
Tornado Facts
source: NOAA National Weather Service
A tornado is a violently rotating column of air extending from a cumuliform cloud, such as a thunderstorm, to the ground.
Tornadoes may appear nearly transparent until dust and debris are picked up or a cloud forms within the funnel.
loading...
Sharing is caring!