This Vicious Cycle is What Bedevils the US Economy
This Vicious Cycle is What Bedevils the US Economy by Wolf Richter – Wolf Street
Railroads slash capital spending, but plow more money into buying back own shares, after two years of Freight Recession.
CSX reported quarterly earnings late Wednesday. Revenues increased 9.5% from the terrible quarter a year ago, which had been the worst quarter in terms of revenues since Q1 2010! So it's no big feat to beat last year's fiasco quarter. At $2.87 billion in Q1 2017, revenues are sill 5.3% lower than they'd been in Q1 2015. This time, moribund coal shipments had increased.
Since March, there's a new guy at the throttle. Hunter Harrison is known as a cost cutter. And that was the theme of the earnings announcement. The railroad said that it plans to cut costs further. It had already slashed its capital spending plans for 2017 by 18% to $2.2 billion. Now more cuts for 2017 are likely.
But in the same breath, it announced that it would plow $1 billion into buying back its own shares. Stocks jumps.
Wall Street loves that – without considering the broader ramifications: Cuts in capital spending turn into lower revenues for their suppliers. But CSX isn't the only one.
Railroad revenues have been dropping since their peak in 2014. In this, they're a poster child for the quintessential large US corporation, including Big Tech, such as glamorous IBM.
The table shows the debacle the seven largest freight railroads active in the US face, in order of their 2016 annual revenues. Note that CSX and Norfolk Southern used to be #3 and #4 on this list. But thanks to their respective 12.6% and 14.7% revenue plunges over the past two years, they have been surpassed by Canadian National, whose revenues edged down less than 1% over the period.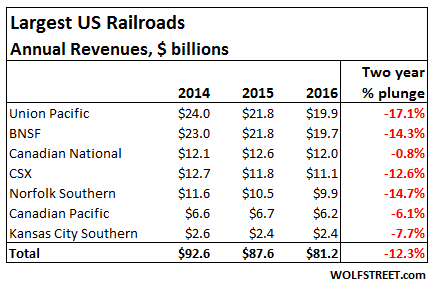 In total, combined revenues declined by $6.4 billion in 2016 and by $11.4 billion, or 12.3%, for the two-year period.