2013 Trump is Against Everything That 2017 Trump Does
2013 Trump is Against Everything That 2017 Trump Does by Jeff Berwick – Dollar Vigilante
In 2013, Donald Trump could have almost been mistaken for a Dollar Vigilante subscriber. He was against almost anything Obama was doing, was against all the wars and occupations, was against Obamacare and constantly pointed out all the corruption, criminality and waste in government.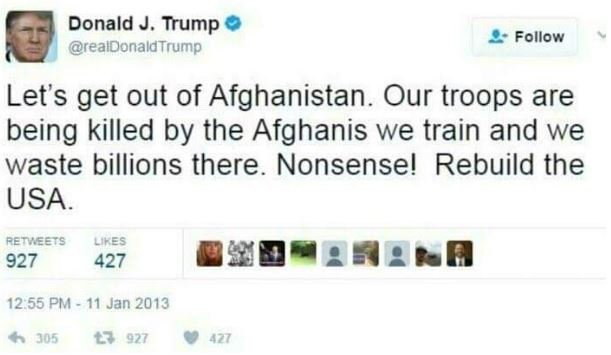 Boy, do we miss 2013 Donald Trump.He was adamant about getting the US out of Afghanistan in 2013. He even was as late as 2016. But, then, after he had fooled enough people and became President, he began to do exactly what George W. Bush and Nobel Peace Prize winner, Barack O'Bomber, always did.
Except now he is doing everything even bigger. Or huge as he'd say.
It took around a month for Obama to launch airstrikes on Islamic State group targets in Syria after the Syrian gas attack false flag/hoax in 2013. Trump took only 63 hours.
And, in Afghanistan, where things had grown relatively quiet over the years, Trump took it up a big notch this week, approving the dropping of something called the Mother Of All Bombs (MOAB) on Afghanistan.
So much for "getting out of Afghanistan," as he wanted in 2013. Now that he's the frontman for the US government, he continues to bomb a country that had nothing to do with 9/11. If he wanted to bomb the place that was behind 9/11 he'd bomb Washington, DC.
Given the fact he can't even remember where he just bombed (see video below) maybe there is hope that one day, over some delicious chocolate cake, he'll accidentally bomb the District of Criminals and get rid of most of the evil in the world.
Of course, Trump continues to say that he is bombing Syria and Afghanistan to "fight ISIS." But even the LA Times knows that ISIS is a CIA funded operation just as was Al Qaeda.