The IRS Now Has Moved Beyond Extortion To Outright Theft While the Police Rob Americans Blind
The IRS Now Has Moved Beyond Extortion To Outright Theft While the Police Rob Americans Blind by Jeff Berwick – Dollar Vigilante
People need to realize what government is. It isn't there to protect you. All government really is is a criminal enterprise that is the most successful one in each geographical jurisdiction.
The only difference between the mafia and government is size. And the IRS is just the largest protection racket in the US.
If you pay the IRS its "protection money," which they call taxes, they won't kidnap you and put you into a rape camp. That's the "protection."
But now the US government is so bankrupt financially and morally that it is going beyond an outright mafia operation to straight up robbing people.
In the US today both yourself and your property are guilty until proven innocent.
"Asset forfeiture," which is just theft by the police, that Donald Trump is a big fan of, is now the leading cause of robbery in the US coming in at over $5 Billion USD annually.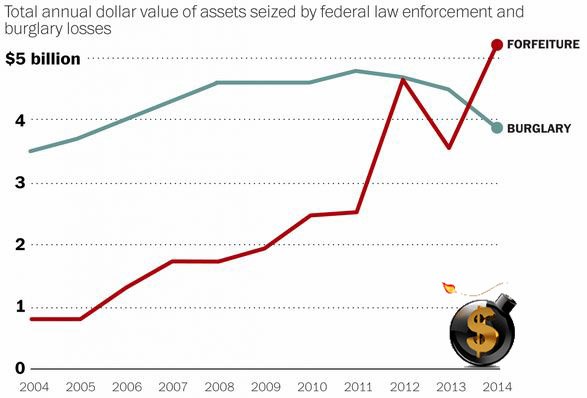 People are brainwashed in 12 years of government indoctrination camps and thousands of hours of pro-police propaganda on their television programming to believe that without government police they'd be getting constantly robbed by others.
Well, it turns out that the police rob Americans of more money than all private criminals combined. And they can do it with complete immunity too.
And, in this latest report, the jealous IRS has gotten in on the act because they wanted a piece of the action too.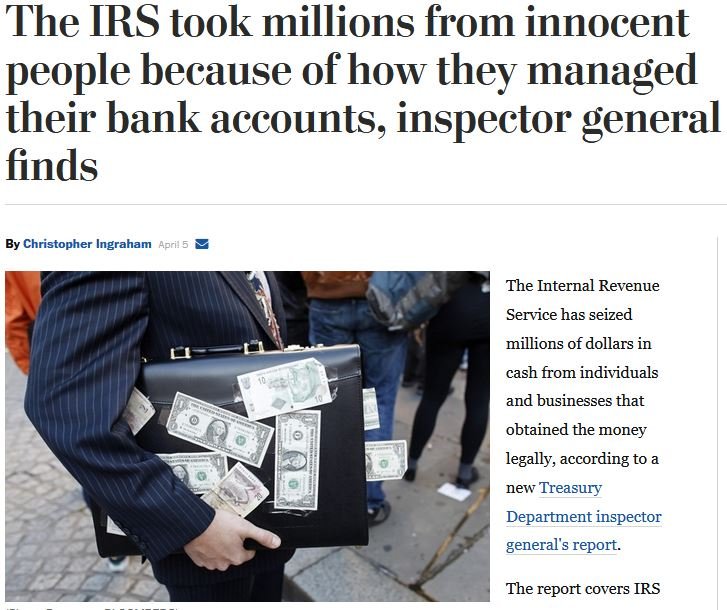 The IRS already steals more from Americans than any other entity at over $2 trillion per year in taxes. But even that isn't enough, according to this latest report. On top of all the taxation theft, they are just outright stealing money from people's bank accounts now.
Banks are forced to report bank deposits of greater than $10,000 in the USSA, which leads many business owners to divvy up their deposits into smaller increments to not set off any red flags with the thieving IRS.