More Evidence Emerges 'Planet Nine' Is Really 'Planet X' aka 'Nibiru'
More Evidence Emerges 'Planet Nine' Is Really 'Planet X' aka 'Nibiru' by Stefan Stanford – All News Pipeline
December 30th, 1983 Washington Post story claimed 'mysterious heavenly body' found in the direction of the Constellation Orion. December 30th, 2016 story from NASA claims: "at aphelion, Planet Nine would be in the general 

location

 of the Orion and Taurus constellations."
ANP recently received an interesting email from a reader which began: 
ALL news

 is just a distraction from your real problem, Planet X
. Still officially 'undiscovered', as we see outlined in the stories and videos below, new evidence has emerged that 'Planet X' is indeed out there lurking, rebranded 'Planet Nine', and confirming some very old news stories.
With 'Planet X' or 'Nibiru' still called 'conspiracy theory' or 'fake news' by the mainstream media, we asked on ANP back on December 2nd of 2016 "Is The Biggest Cover-Up Of All-Time About To Come Crashing Down?" while reminding you of two 1983 stories, one each from the Washington Post and the New York Times. Well the search for 'Planet X' goes on, rebranded in this new BBC News story as the search for 'Planet Nine'.
As ANP reported then, back on January 30th of 1983, the NY Times published a story called "Clues Get Warm In The Search For Planet X" in which they reported: SOMETHING out there beyond the farthest reaches of the known solar system seems to be tugging at Uranus and Neptune. Some gravitational force keeps perturbing the two giant planets, causing irregularities in their orbits. The force suggests a presence far away and unseen, a large object that may be the long-sought Planet X.
Reporting then upon the launching of the 'Infrared Astronomical Satellite' that would conduct a wide-ranging survey of nearly all of the sky over the following 6 to 8 months, detecting sources of not only ordinary light but of infrared radiation invisible to the human eye and absorbed by the atmosphere, scientists hoped they'd be able to chart thousands of previously undetected objects in the sky – with a dim hope of finding 'Planet X'.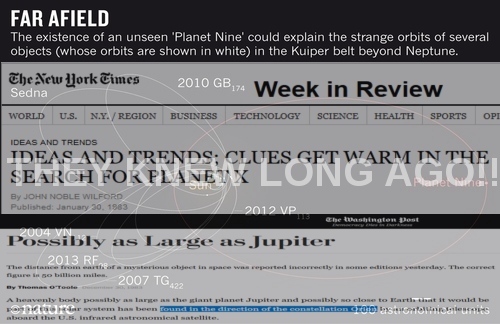 Less than a year later on December 30th of 1983, the Washington Post published a story called "Possibly As Large As Jupiter" within which they reported in their first paragraph: A heavenly body possibly as large as the giant planet Jupiter and possibly so close to Earth that it would be part of this solar system has been found in the direction of the constellation Orion by an orbiting telescope aboard the U.S. infrared astronomical satellite.
The same US 'Infrared Astronomical Satellite' the NY Times story had mentioned would be 'searching for Planet X' had found 'a heavenly body' scientists described then as:
So mysterious is the object that astronomers do not know if it is a planet, a giant comet, a nearby "protostar" that never got hot enough to become a star, a distant galaxy so young that it is still in the process of forming its first stars or a galaxy so shrouded in dust that none of the light cast by its stars ever gets through. 
"All I can tell you is that we don't know what it is," Dr. Gerry Neugebauer, IRAS chief scientist for California's Jet Propulsion Laboratory and director of the Palomar Observatory for the California Institute of Technology, said in an interview.
Found in the direction of the constellation Orion according to the 1983 Washington Post story, talk of 'Planet X' soon vanished from the mainstream media and for many, many years until this very day, those who speak of 'Nibiru' or 'Planet X' online are ridiculed, called 'tinfoil hat wearing conspiracy theorists' and worse by those unable to grasp that there may be another planet out there in our solar system and it just may be 'Biblical'.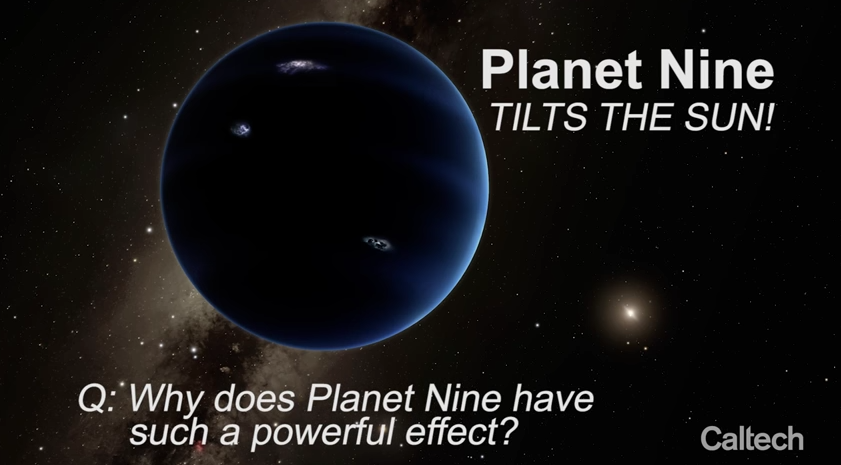 While many years passed without much mention of 'Planet X' in the mainstream media, 2016 brought us the hypothetical 'Planet Nine', a massive yet still officially undiscovered 'heavenly body' that the mainstream media had no choice but to cover after Cal Tech University scientists Konstantin Batygin and Michael E. Brown explained how a massive outer planet would be the likeliest explanation for the similarities in orbits of six distant objects. 

Dubbed 'Planet Nine' after the 'death of Pluto', scientists explained how 'Planet Nine' could be responsible for many of the mysteries our solar system still poses. Space.com published a story on October 19th of 2016 called "Did The Mysterious 'Planet Nine' Tilt The Solar System" while Astronomy.com published a story the same day called "Planet Nine May Be Responsible For Tilting The Sun". On October 23rd of 2016 Forbes ran a story called "Mysterious 'Planet Nine' May Be Pulling Our Solar System Out Of Whack". Were all of those just 'fake news' stories?