Meteor Crater Near Winslow Arizona A Reminder Of Asteroid Impact Dangers
Meteor Crater Near Winslow Arizona A Reminder Of Asteroid Impact Dangers by Ken Jorgustin
Wow, just wow…
We recently visited the meteor crater near Winslow, Arizona (for the purpose of this post!) and it was an awesome visual reminder of the devastating potential from asteroids (becoming meteors when they enter our atmosphere) smashing into our planet.
50,000 years ago, a pinpoint of light grew rapidly into a brilliant meteor.
The hunk of iron-nickel probably broke free from the asteroid belt during a collision among the countless asteroids circling there.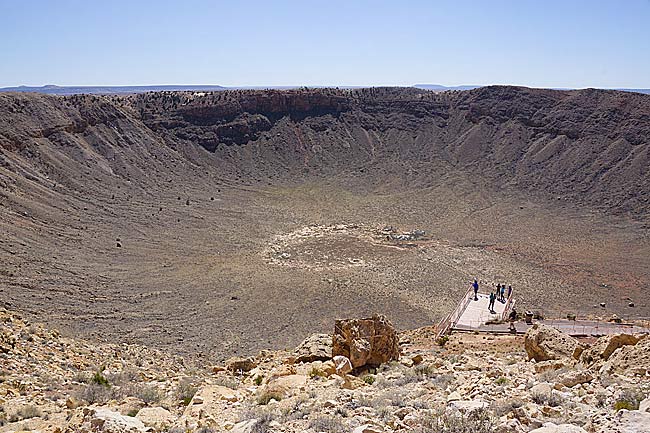 Meteor Crater: Winslow, Arizona
It only took seconds to pass through our atmosphere at an estimated speed of 26,000 miles per hour and in a blinding flash the mass of several thousand tons of rock (estimated to be 150 feet across) smashed into earth with an explosive force greater than 20 million tons of TNT.
175 million tons of limestone and sandstone were blasted out of the crater. A dense hot cloud quickly rose high above the crater and rained down as fallout across the land.
And all this was caused by a meteor that was "just" 150 feet across.
Related: Stunning Simulation Video Of Asteroid Belt
While sitting on a bench at the crater rim, I contemplated the massive hole in front of me with respect to the size of the meteor itself. I imagined the massive ejecta thrown out and I imagined how much terribly worse it would be for a meteor even larger.
If a 150 foot asteroid blasted a 4,000 foot wide by 700 foot deep crater (with all that earth being ejected into the sky), how big would a crater be (and ejecta) from a 1,000 foot wide meteor? Answer: You don't want to know!
What's interesting is how many times that a new asteroid is discovered hurling into our proximity – sometimes only days away from zipping past the earth at tens of thousands of mph. They seemingly come out of nowhere.
According to The Armagh Observatory (a modern astronomical research institute and the oldest scientific institution in Northern Ireland) it is estimated that there may be between 100,000 to 1,000,000 (that's "million") undiscovered asteroids on Earth crossing orbits.
The asteroid belt, located between Mars and Jupiter, is filled with up to several million asteroids all jostling about like a ping pong gallery. A previously predicted orbit could suddenly become a brand-new (different) orbit and become a danger to earth when two of these space rocks collide together and change their path.
loading...
Sharing is caring!