Hemke Exclusive: Physical Metals Demand Plus Manipulation Suits Will Break Paper Market (Podcast)
Hemke Exclusive: Physical Metals Demand Plus Manipulation Suits Will Break Paper Market Podcast
Coming up Craig Hemke of the TF Metals Report joins me. Craig speaks out on the technical situation for the metals, whether or not the economy his headed towards a recession and reveals something that could ultimately break the paper markets for gold and silver and get us back to free and fair pricing for the precious metals. Make sure you stick around for a tremendous interview with Craig Hemke, coming up after this week's market update.
Precious metals markets got a boost following the Federal Reserve's interest rate decision on Wednesday.
As expected, the Fed raised its benchmark rate by a quarter point. Fed chair Janet Yellen also recommitted to the idea of gradual rate hikes. That helped reassure investors who had feared an accelerated pace might be in store. Yellen's statement suggested that two or three more hikes will be likely this year rather than four or five as some hawks have called for.
Investors breathed a sigh of relief on Wednesday as metals, stocks, and bonds all rallied strongly. The biggest standouts were the gold mining stocks. The GDXJ junior gold stocks ETF surged more than 11% on the day. Speculative money piling back into this high-risk space bodes well for the gold and silver markets.
Gold prices found support around the $1,200 level mid week and currently come in at $1,230 an ounce. That's good for a 2.0% gain on the week. Turning to silver, the white metal shows a weekly gain of 1.8% to trade at $17.39 per ounce. Platinum and palladium are up 1.9% and 4.1% respectively this week. Be sure to stick around for some key technical levels that my guest this week is looking for.
So can precious metals investors look forward to a spring rally? Much will depend on whether public optimism toward the Donald Trump economy stays elevated. If it does, then metals markets will struggle to attract safe haven buying. However, the new President's honeymoon period could be coming to end as federal judges, deep state bureaucrats, and a divided Congress threaten to thwart his policy agenda.
The stock market's impressive rise since Trump's election win has been premised on the hope that he would usher in major regulatory reforms, tax cuts, and the repeal of Obamacare. Corporations are getting some regulatory relief at the administrative level. But the prospects for a fundamentally new healthcare system and major tax cuts are diminishing.
Congressman Paul Ryan's healthcare bill has been roundly criticized by conservatives for being little more than an Obamacare makeover. At the same time, President Trump's budget proposal has been declared "dead on arrival" by Big Government Republicans including Senator Lindsey Graham.
Trump wants to boost military spending by more than $50 billion and offset it with cuts in domestic agencies and foreign aid. Lindsey Graham and John McCain are up in arms over the prospect of less funding for their foreign interventionist projects. Democrats, meanwhile, are screaming bloody murder over the National Endowment for the Arts being put on the budgetary chopping block.
Even if Trump could somehow use his powers of persuasion to push all his proposed cuts through a resistant Congress, the rest of his spending would still produce a near $500 billion budget deficit.
The last Republican president to propose significant budget cuts was Ronald Reagan. He talked a lot about downsizing Washington. But that never actually happened. Most of Reagan's proposed agency cuts went nowhere in Congress. He got the ramped up defense spending he wanted. And to some extent he got the tax cuts he wanted. But President Reagan ended up presiding over growing federal budgets and expanding deficits. The same happened under George W. Bush's watch – even during years when he had a Republican-controlled Congress by his side.
Could things be different this time around? Possibly, but it's doubtful. Regardless of the partisan breakdown in Congress, there appears to be majority support for more overall spending and more borrowing. Congress will once again have to raise the debt ceiling. There could be a battle over that in the weeks ahead that could rattle markets.
But the real trouble will come when the economy dips into recession and federal revenues shrink. Trump inherited an unusual so-called recovery that is both one of the weakest and longest in U.S. history. It would be unprecedented if the economy got through Trump's entire first term without turning down.
The response from the Federal Reserve to a recession would be to cut interest rates back to zero, or even below zero. And to reengage Quantitative Easing on a massive scale. At that point many investors who are now all-in on stocks will reacquaint themselves with gold as a safe haven.
Those who buy their gold and their silver now – before the next big rush into precious metals – won't have to chase rising prices. Retail bullion demand has been soft in recent months, with premiums on popular gold and silver products low across the board, meaning for now, it's a buyer's market.
Well now, without further delay, let's get right to this week's exclusive interview.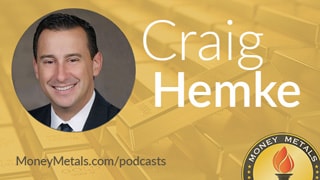 Mike Gleason: It is my privilege now to welcome in Craig Hemke of the TF Metals Report. Craig runs one of the most highly respected and well known blogs in the industry and has been covering the precious metals for close to a decade now, and he puts out some of the best analysis on banking schemes, the flaws of Keynesian economics and evidence of manipulation in the gold and silver markets.
Craig, it's great to have you back and thanks for joining us again today and how are you?
Craig Hemke: Mike, I'm fine thank you. It's always a pleasure and I appreciate the invitation.
Mike Gleason: Well, I know time is short here so we'll get right into it. First off, we've been seeing a decent little correction in the metals over the last few weeks although they're rallying a bit here today and now that the Fed decision is out, as we're talking on Wednesday afternoon. Gold and silver were probably due for a pullback after a very strong first eight or nine weeks of the year. So how do things look technically speaking here, Craig, after this recent pause and the uptrend? Do you think we're still in the midst of a bull run and has this just been a healthy correction? How do you see things here?