Gold, Prostate Cancer and Epic Wealth
Gold, Prostate Cancer and Epic Wealth by Greg Guenthner
If you aren't buying the right stocks, you might as well sit on the sidelines.
Gains aren't distributed evenly during rallies. That's an uncomfortable truth the financial media machine isn't telling you about this market.
Instead of a magical rising tide that lifts all stocks, we've witnessed a couple of strong sectors boost the major averages higher for a few weeks at a time. As these stocks become overbought, they consolidate as a new group takes the baton and sprints higher. Repeat this process a half dozen times and you have the blueprint of the post-election rally.
What results is a stair-stepping market that steadily pumps out the gains. While every stock isn't ripping higher five days a week, there's always a hot new sector keeping the broad market in the green.
This rotation is one of the hallmarks of a bull market. It's commonly referred to as a stock picker's market. And it can be a great environment for booking short-term trading gains.
The trick for us as traders is to grab the tails of the right trends as they begin to take off. That's the only way to top the performance of the major averages. But if you load up on the wrong stocks, you can kiss your profits goodbye.
You don't need any advanced computer programs or a finance degree to see huge rift between the market's haves and have-nots. Look no further than the performance of biotech stocks vs. retailers and you'll quickly see what I'm talking about…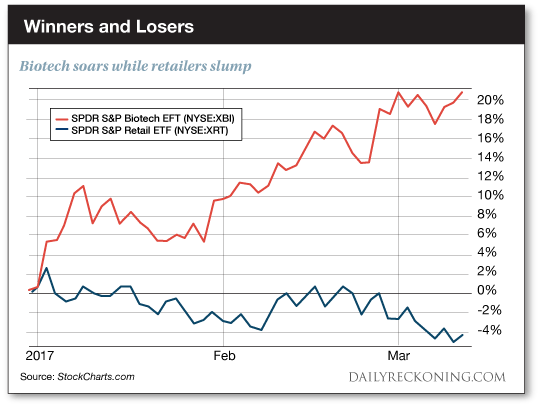 Biotech stocks are waking up from an 18-month slide and are beginning to lead the market higher. This group is up more than 20% year-to-date. Meanwhile, traditional retailers are falling apart. As Amazon continues its path toward world domination, traditional retailers are down nearly 5% year-to-date.
Today's chart perfectly illustrates why you shouldn't give a hoot what where the Dow or S&P 500 ends up every day.