Deep State Escalates Attacks Against Trump Admin As Obama Sets Up Shadow Government Insurgency
Deep State Escalates Attacks Against Trump Admin As Obama Sets Up Shadow Government Insurgency by Susan Duclos
There is an uproar in the media today over anonymous sources in the intel community telling the Washington Post (sound familiar?) that Attorney General Jeff Sessions, when he was still a Senator and a member of the member of the Senate Armed Services Committee, met with a Russian envoy twice last year. Democrats are howling that Sessions should resign, some Republican turncoats are squirming, while the White House is standing behind Sessions, with Sessions spokesperson issue a statement saying "Last year, the senator had over 25 conversations with foreign ambassadors as a senior member of the Armed Services Committee, including the British, Korean, Japanese, Polish, Indian, Chinese, Canadian, Australian, German and Russian ambassadors. He was asked during the hearing about communications between Russia and the Trump campaign — not about meetings he took as a senator and a member of the Armed Services Committee."
POLITICAL THEATER
While almost everyone has an opinion on this from the left to the right, with House minority leader Nancy Pelosi calling for Sessions' resignation, it is interesting that one of Trump's most vehement opponents during the primaries, is the one offering up a little objectivity over the whole "nothing burger" story, as Senator Ted Cruz calls it.
"What we are seeing is a lot of political theater," Sen. Ted Cruz (R-Texas) said on "Morning Joe."

"This morning, everyone is in high dudgeon about the meeting," Cruz continued. "The underlying meeting is a nothing burger. It's what senators do every day. Meeting with foreign ambassadors, that's part of the job," he said.

"I think everyone is getting all worked up because it's a chance to beat up the attorney general and to beat up the president," said Cruz.
House majority leader Paul Ryan definitely gets the quote of the day though as he was asked about this issue during his weekly press conference where he asserts that meeting with foreign ambassadors is par for the course for Congressional members, highlighting that he himself just met with the ambassador of India, as well as meeting with about 100 ambassadors recently, stating that "Democrats are lighting their hair on fire to get you to cover this story (inaudible) keeps repeating the same story." Ryan assures the reporters that there is absolutely nothing "new" in the story, that the relevant committees in Congress have known all this information and have determined that there was no collusion between the Trump campaign, nor any American, and Russia, regarding the election.
In other words, it is a fake news story, provided to Washington Post by anonymous members of the intel community, in an escalation of the "deep state" attacks against the Trump administration. This comes as we get confirmation that the Obama administration deliberately attempted to sabotage Trump's transition to the White House.
To show the type of political theater we are watching play out, we have the perfect evidence by way of Senator Claire McCaskill of Missouri, who acted shocked that a member of the Senate would meet with (gasp) a Russian envoy, tweeting just this morning "I've been on the Armed Services Com for 10 years.No call or meeting w/Russian ambassador. Ever. Ambassadors call members of Foreign Rel Com."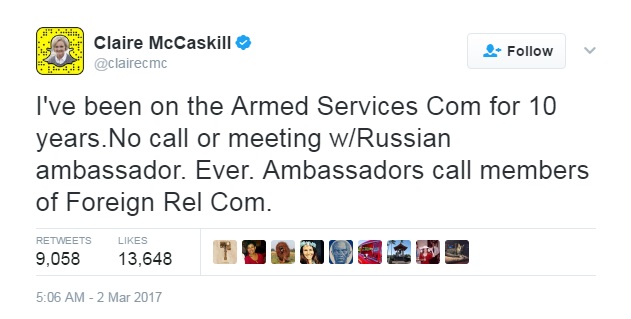 Problem is, the Internet never forgets as Red State highlights from two past tweets from that very same Senator: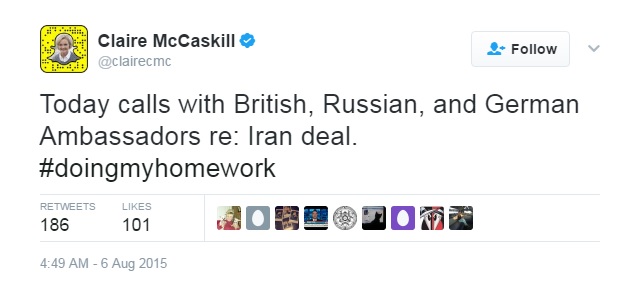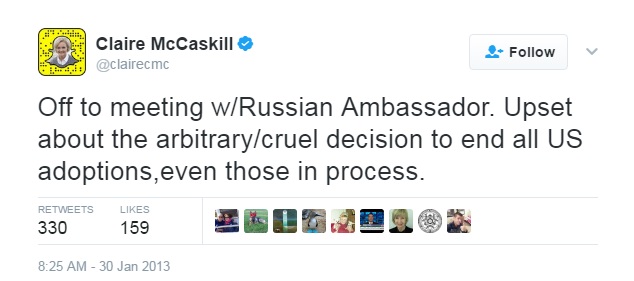 DEEP STATE PANICKING AND ESCALATING ATTACKS AGAINST TRUMP ADMIN
The Obama lackies that are still in intelligence positions are still attempting to undermine the Trump administration, and have escalated these attacks because the respective agencies heads, the ones that Trump has placed, have been cleaning house, and frankly they know their days are numbered.
Recently it was reported that Secretary of State Rex Tillerson started "cleaning house" at the State Department, in what was reported as a "blood bath," with NYP describing it in the following manner: