Investigative Journalist Beaten And Threatened, Creates Video Insurance Policy 'I Am Not Suicidal'
Investigative Journalist Beaten And Threatened, Creates Video Insurance Policy 'I Am Not Suicidal' by Susan Duclos
Over the past weeks, those that have have highlighted high level pedophilia rings in the U.S. have been intimidated, threatened, destroyed, or in some way muzzled.
The latest example of this comes from Liz Crokin, an investigative journalists for the Observer, which is a publication formerly owned by Jared Kushner, son-in-law of President Donald Trump, who reported in September 2016 about how the Hillary Clinton campaign systematically overcharged her poorest donors, in an exclusive article that detailed how low income Clinton supporters were repeatedly charged by the Clinton campaign, resulting in massive complaints at some of the biggest banks in the U.S. of fraud.
In her video statement, which she calls her "insurance policy," she explains how after breaking that story wide open, having it go viral on the Observer and on social media, she started receiving threats, was intimidated, her social media accounts were messed with, and she felt that her life and those close to her were  in "danger." So she backed away from doing explosive corruption investigative articles, out of fear for herself and those around her.
Until now……
She states that since Trump was elected, she has gotten involved in researching pzzagate, pedogate and high profile pedophile rings within the U.S., and as she notes, she has been very active on social media highlighting sex trafficking stories, she refers to as "pedogate" stories, which after checking her page, we see her assertion is true.
A Facebook post from yesterday, specifically deals with one of her assertions in the video below, regarding how many sex trafficking and child exploitation busts have been made since Trump has been office.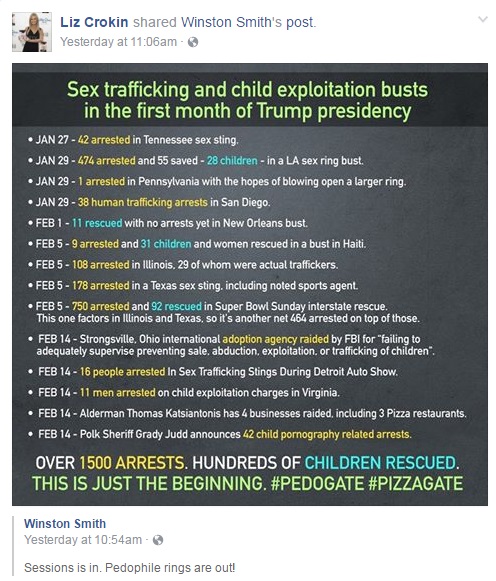 Crokin goes on to explain that about a week ago, from her video publish date of February 18, 2017, she was asked to be involved in a project with "some really major government whistleblowers," in relation to child sex trafficking, pedogate and pizzagate. After meeting with two people involved with the project, who told her they had suspicions they were being followed, and agreeing to participate in the project, she was "roughed up," as she shows one of the bruises left on the back of her arm, stating "I have bruises like this all over my body to prove it."
She ends by saying she is making the video because she wants people to know "I am not suicidal. I do not take drugs. There is no reason why I should be found dead from a suicide."
The details of her video shown below, and beneath that is the video itself.
Then we will detail others that have been muzzled in some way, or attempts have been made to destroy them, directly after becoming involved in investigating high level pedophilia rings or child sex trafficking.
——"I'm posting this video for my own safety. I have been threatened and intimidated since exposing a major Clinton corruption story and I feel targeted more so than ever after I agreed to be involved in a project blowing the lid off of Pizzagate and Pedogate. I know several other people researching this and exposing this who have been targeted in the past few days. Please pray for people brave enough to expose the truth on this horrendous scandal and coverup and especially for the children who are being tortured and ritualistically sexually abused by these elite monsters. This is not a partisan issue, anyone with any kind of humanity should get behind this movement. 
I AM NOT SUICIDAL AND MADE THIS VIDEO FOR MY SAFETY & FOR INSURANCE PURPOSES. MY FAMILY, FRIENDS AND LAWYERS ALL KNOW WHAT'S GOING ON"—-
OTHERS INVESTIGATING PEDOGATE HAVE BEEN MUZZLED OR CENSORED
-->