Gerald Celente: No Safer Place than Gold Given Today's Explosive Geopolitical Situation (Podcast)
Gerald Celente: No Safer Place than Gold Given Today's Explosive Geopolitical Situation Podcast
Coming up we'll hear another tremendous interview with Gerald Celente of the Trends Research Institute and the Trends Journal. Gerald weighs in on how to play the Trump card, the chaos that's brewing in the Euro Zone and gives us his thoughts on gold and where it's heading. Don't miss my conversation with Gerald Celente, one of the top trend forecasters in the world and a man who doesn't pull any punches, coming up after this week's market update.
Precious metals markets continued marching higher this week in spite of a stronger U.S. dollar. The Dollar Index pushed back above the 100 level and is headed for its first weekly advance of the year.
Neither the dollar rally nor the mid week oil inventory report showing a massive supply buildup in crude caused much damage in raw materials markets. Crude oil prices actually recovered off their lows following the bearish inventory report, which traders seemed to have already been pricing in. Over the last two months, oil has been locked into a tight trading range between $51 and $54 per barrel. A strong breakout higher would have inflationary implications for the economy. But a breakdown back below $50 could generate disinflationary ripples and cause the Fed to rethink the need for rate hikes.
As for the precious metals markets, gold prices are up 0.7% this week to trade at $1,230 an ounce. Silver checks in at $17.92 per ounce and is posting a 1.8% gain on the week. Platinum is down a bit today and is now in negative territory for the week, although just slightly, and is currently down 0.4% since last Friday's close, while its sister metal palladium is surging again and is up 4.5% now on the week.
The big moves for investors so far this year have been in metals, but the big headlines continue to be generated by the stock market and the White House.
The major U.S. stock market averages rallied to new highs Thursday on renewed optimism for tax cuts. President Donald Trump promised he would put forth a bold tax cut package in the weeks ahead. This, after some establishment Republicans in Congress had indicated that they'd rather not get to work on tax relief until 2018 or maybe never. Some of the same GOP politicians who are less than enthusiastic about lowering America's tax burden are now also talking about putting band aids on Obamacare rather than repealing and replacing it.
Monetary reform proponent Steve Forbes, who was a guest expert on our Money Metals podcast last year, delivered some pointed words this week to Congressional Republicans.
Steve Forbes: Already now, they're backing off on healthcare. They're backing off on the tax thing. They don't get something done soon, they're going to be in big trouble economically and politically especially in 2018. They could lose the House if they botch this thing on taxes.

Even if they pass the tax cut late in the year, if they make it retroactive to January 1st, that'll give them, that'll cover a lot of sins.
Perhaps Republican voters will be able to whip their members of Congress into shape on this issue. But there's no guarantee that a tax reform bill will get signed in time for taxpayers to see any relief on this year's taxes.
Among the many problems with the current tax code and its thousands of pages of impenetrable legalese, is that it discriminates against precious metals investors. Stocks, bonds, and most other financial assets that are held for more than one year are subject to favorable long-term capital gains treatment. Gold and silver bullion, on the other hand, get taxed at the so-called "collectibles" rate of 28%.
Until the arbitrary and unfavorable tax treatment of gains on physical precious metals is ended – something that groups like the Sound Money Defense League are working to do – an IRA can help you avoid it. Holding physical bullion coins, rounds, and bars within a self-directed IRA means your gains are sheltered from taxation. When the time comes, you could sell your bullion for cash within the retirement account, owe no taxes on the gains, and reinvest in stocks or other assets if you wish. Or you could begin taking distributions in cash. You could also choose to never sell and instead take distributions in the form of the bullion you hold in your IRA. That way you're never in paper assets!
As with any IRA, the distributions themselves may be taxable unless they're from a Roth IRA. But you incur no collectibles tax on any selling of precious metals that is done within an IRA of any type.
If you're interested in setting up a precious metals IRA, a Money Metals Exchange specialist can help guide you through the process. Just give us a call at 1-800-800-1865 to get started. Or visit the IRA section of our website to learn more about how they work.
Well now, without further delay, let's get right to this week's exclusive interview.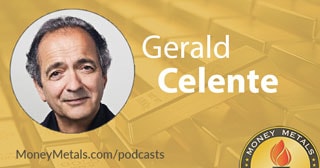 Mike Gleason: It is my privilege now to welcome in Gerald Celente, Publisher of the renowned Trends Journal.
Mr. Celente is a highly sought after guest on news programs throughout the world and has been forecasting some of the biggest and most important trends before they happen for more than 30 years now, and it's always an honor to have him on with us.
Mr. Celente, welcome back and thanks so much for joining us again.
Gerald Celente: Thank you, Mike.
Mike Gleason: The last time we had you on, Gerald, was the week before the election. To start off, give us your thoughts on how the first few weeks of the Donald Trump Administration have gone in your view, and have you zeroed in on any trends that you see as being likely with this new presidency?