Is This Why The Rich Are Moving To The Southern Hemisphere? Officials Warn: 'We've Reached A Very Big Turning Point'
Is This Why The Rich Are Moving To The Southern Hemisphere? Officials Warn: 'We've Reached A Very Big Turning Point'
Back on January 29th we reported on what scientists were calling a 'devastating, alarming and dire' situation unfolding along the West coast of America that had scientists 'mystified' and 'stumped' with sea life from Alaska to California continuing to suffer a massive series of die-off's with no end in sight.
What was then our first Fukushima update in several months, we've been urged by recent news to revisit what is going on there once again after the Drudge Report linked to this story from Japan Today which reported that nearly 6 years after the devastating earthquakeand tsunami struck the plant, record radiation levels have been detected inside the #2 reactor.
As the Guardian reports, the 'extraordinary radiation levels' being detected now are the highest levels detected since the 2011 meltdown. They also report the extremely high readings "highlight the scale of the task confronting thousands of workers, as pressure builds on Tepco to begin decommissioning the plant – a process that is expected to take about four decades."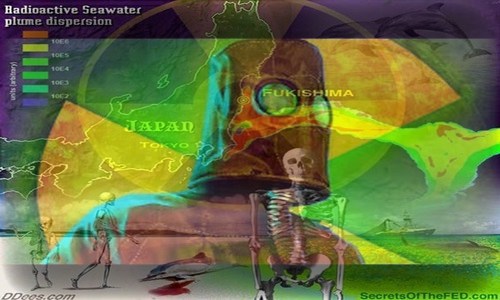 Measuring an estimated 530 sieverts per hour, Japan Today reports that radiation level can kill after even only a brief exposure, a level other nuclear experts have called "unimaginable" and a level that far exceeds the previous high radiation level measured there, only 73 sieverts per hour.
According to medical experts quoted in their story, a dose of only 4 sieverts of radiation would kill one of every two people. They also report that 1 sievert alone could lead to infertility, the loss of hair and cataracts while increasing the risk of cancer.
And even though we aren't there, why should we be concerned, and where is all of this radiation now going? This recent story from ENENews reports upon exactly why we should be concerned about what is happening half-a-world-away.
Reporting that US states have been hit with 'extremely large peaks' of Fukushima's radioactive material and a 'significant of amount of plutonium' has been released for months on end, they also share proof the radiation is going all around the world and can be 'measured globally' with this stunner: "it blanketed the entire Northern hemisphere".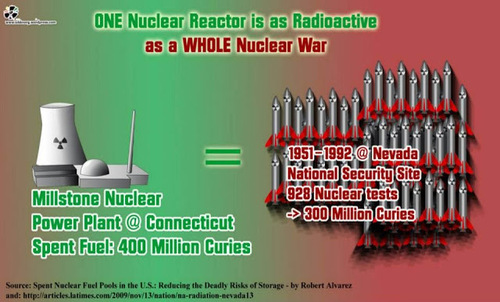 Another sign that we should be concerned is this very interesting new story that Steve Quayle just linked to from the Daily Mail that reports that "tech billionaires are building boltholes in New Zealand". Reporting that the 'super rich' are quietly preparing for 'the apocalypse', they also allude to the fact that in a WW3 scenario, the Southern hemisphere would likely be more safe than the Northern hemisphere should full-scale nuclear war break out between nuclear superpowers.
As the graphic seen above points out, one nuclear reactor is as dangerously radioactive as an entire nuclear war. And with the total meltdown of several nuclear reactors at Fukushima and the resultant radioactive poisons they have released now competely blanketing the entire Northern Hemisphere, is THAT why so many of the rich are moving into the Southern hemisphere?
Another recent story from ENENews reports the Fukushima calamity was 'far worse than previously thought' and with the mainstream media still mostly ignoring what is happening to the Pacific Ocean and to our country and much of the world from the odorless, invisible death that is continuously pouring into our atmosphere, an official in Japan has warned that was happened there recently "is a very big turning point"…and not for 'the best'.
-->