First Majestic Mining CEO: "There's Going to Be a Huge Supply Squeeze in Silver" (Podcast)
First Majestic Mining CEO: "There's Going to Be a Huge Supply Squeeze in Silver" Podcast
Neumeyer: Damage Inflicted by Precious Metals Manipulation Is in the "Multi Billions"
Coming up we'll hear from Keith Neumeyer, founder and CEO of First Majestic Silver and outspoken voice on the manipulation that's occurring in the futures market for silver. Keith weighs on the Deutsche Bank market rigging case, gives us his outlook for the metals under a Trump presidency and explains how silver's gains in the future may end making the recent advance in zinc look like child's play. I can promise that you will NOT want to miss an incredible interview with Keith Neumeyer, coming up after this week's market update.
Precious metals markets continue to show strength in 2017 as we finish out the second trading week of the year. So far in 2017, gold, silver, platinum, and palladium are all on the upswing. So is copper, uranium, rhodium, and most other hard assets.
The gold market closed Thursday back near $1,200 per ounce and a 7-week high. As of this Friday recording, gold continues to run into overhead resistance at the $1,200 level and currently comes in at $1,194 and is up 1.7% or $20 since last Friday's close. A third consecutive weekly gain of $20.
Turning to silver, spot prices currently come in at $16.77 an ounce to register a weekly gain of 1.3%. It's not clear yet whether silver will lead gold in 2017. The gold to silver ratio has been oscillating around 70 to 1 over the past few months and currently stands at around 71 to 1.
We'll also be watching the platinum to gold ratio this year. It has been depressed for some time. An ounce of platinum last sold for the same price as an ounce of gold in late 2014. Platinum now sells at a sizeable discount, which makes it attractive for bargain hunters.
Platinum prices are up 1.1% this week to $982 an ounce, while palladium – which has been white hot of late – is pulling back slightly and is now down 0.7% to trade at $754.
The stock market rally, meanwhile, keeps stalling out whenever the Dow Jones Industrials approaches the 20,000 level. Traders still aren't quite sure what the Donald Trump presidency will bring. The latest consumer and business sentiment readings show a huge surge in optimism. Trump will ride a wave of hope and high expectations into his formal inauguration next week.
Even though he's not yet president, he's already wielding enormous influence in the economy. Trump moved markets again this week by reiterating vows to negotiate for lower prescription drug prices and defense contracts. Drug makers, aircraft makers, auto makers, and any manufacturer thinking of outsourcing jobs out of the country risk being "trumped" by the incoming president if he doesn't like the way they do business.
There are potential benefits to taxpayers in having one of the world's most aggressive negotiators as our president. Trump could single handedly stop billions of dollars in wasteful spending and padded bills from contractors that previous presidents have ignored. But when he orders corporations to keep domestic factories open under the threat of punitive taxes, he risks crossing the line into central planning.
Will Trump take drastic steps to intervene in the economy if it goes into recession? Will he dispatch the plunge protection team if the stock market crashes? Will he seek to drain the swamp of shadowy market manipulators or look the other way when their price rigging schemes suit his agenda? We will soon find out.
Our next president has publicly gloated about the post-election stock market rally and the uptick in consumer sentiment. It's likely that as president he'll be personally invested in keeping markets propped up by whatever means he can. President Trump may learn to become a fan of the Federal Reserve and of stimulus schemes on steroids if need be.
He'll have a Republican Congress on his side that seems eager to put its stamp on new spending. Despite all the talk of repealing Obamacare, federal spending on various healthcare programs will continue to surge. Medicare reform is off the table. A balanced budget is off the table. But what's on the table is more debt.
On Monday, the Senate rejected an amendment by Rand Paul to freeze federal spending and balance the budget over three years. Senator Paul's balanced budget amendment failed by a vote of 83 to 14. In other words, the forces of bigger government continue to enjoy an insurmountable supermajority.
That's the reality investors have to face. At some point, spiraling debt levels will wreak havoc on the bond market and send inflation rates much higher. There is just as strong a case for accumulating precious metals under Republican control of Washington as there would under Democrat rule.
In summary, there is unprecedented uncertainty about how Donald Trump will actually govern. He is an outsider with no track record in elective office. That makes the case for owning precious metals now even stronger than if Hillary Clinton or a more predictable Republican was heading into the White House.
Well now, for more on the metals, manipulation and a growing supply deficit for silver, let's get right to this week's exclusive interview.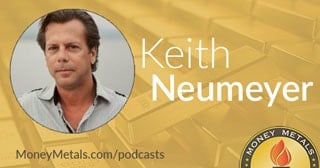 Mike Gleason: It is my privilege now to bring in Keith Neumeyer, founder and CEO of First Majestic Silver Corp, one of the top silver mining companies in the world. Keith has an extensive background in the resource and finance sectors and has also been an outspoken voice about the manipulation that has been occurring in the futures market pricing of silver.
It's a real privilege to have him on with us again today. Keith, thanks so much for joining us and welcome back.
Keith Neumeyer: Thanks Mike. I think we have got lots of juicy things to talk about.
Mike Gleason: Yeah, we certainly do. To start off here Keith – and before we get into the subject of manipulation, which I definitely want to cover with you today – next week Donald Trump will be sworn in as the next president here in the United States and it will mark a new era in American politics. It will also mark the first time in nearly a decade that we don't have a democrat in the white house. It's a new environment here for metals investors. We know many are wondering what a Trump presidency is likely to mean for metals and commodities as a whole. What are your thoughts on the subject? Will Trump and his policies ultimately be good or bad for precious metals?