Holter: Market Rigging Is "No Longer Conspiracy Theory, It's Conspiracy Fact"
Holter: Market Rigging Is "No Longer Conspiracy Theory, It's Conspiracy Fact"
Coming up we'll hear an explosive interview Bill Holter of JSmineset.com and the Holter-Sinclair collaboration. Bill shares his insights on the key drivers for higher gold and silver prices moving forward, talks about how Trump will ultimately preside over a bankruptcy and has a stern warning for those who are considering getting out of their precious metals positions. Don't miss a must-hear interview with Bill Holter, coming up after this week's market update.
Well, holiday cheer continues to keep the stock market aloft even as precious metals investors see their gains being seemingly stolen by the Grinch. Given the recent gold and silver market manipulation schemes carried out by powerful international banks, it's not unreasonable for metals owners to wonder whether the strong rally through the first six months of the year was deliberately sabotaged.
Bankers and bigwigs on Wall Street seem to take great delight in toying with markets with their massively leveraged trades. When they collude to move markets, they can cause billions of dollars in paper wealth to change hands in a matter of minutes, or even seconds. To them, the risk of getting caught cheating is tantamount to the risk of a getting a speeding ticket.
On Wednesday, the Commodity Futures Trading Commission ordered Goldman Sachs to pay $120 million to settle federal charges of market manipulation. Traders at the investment bank rigged a global interest rate derivative market.
Nightly Business Report: Goldman Sachs will pay $120 million dollars to resolve charges of market manipulation. Regulators allege that the bank deliberately moved a global benchmark for interest rate products to its advantage. The case is the latest in a series of broad investigations into manipulation by some of the world's biggest banks.
The $120 million penalty Goldman Sachs will have to pay may sound severe, but Goldman is a $100 billion company that generates billions in profits from its derivatives book. Paying occasional penalties in the millions for manipulation is just the cost of doing business.
Goldman Sachs wields tremendous influence within the U.S. government, backing both Republicans and Democrats with financial support. "Government Sachs," as some call it, also grooms candidates for Treasury Secretary – the latest being Donald Trump's pick of Steven Mnuchin.
Wall Street seems to love Trump's cabinet picks. He will ride into office on a wave of optimism that his tax, trade, and regulatory policies could boost the economy. A report released on Tuesday by Gallup shows confidence in the economy surging since the election. Gallup's U.S. Economic Confidence Index hit multi-year highs along with the stock market.
The Dow nearly reached the much talked about 20,000 level earlier this week before backing off on some light technical selling. The tremendous optimism fueling the stock market in recent weeks has put downward pressure on gold and silver. They tend to thrive more on pessimism.
Gold prices currently come in at $1,134 per ounce, down just $3 or 0.2% on the week. Silver is down more for a weekly decline of 2.5% to bring spot prices to $15.79 an ounce. As for the platinum group metals, we're looking at bigger weekly declines, with platinum down 3.1% to trade at $902 and palladium is down 5.9% to $658 an ounce as of this Friday morning recording.
Frustrated metals investors are asking: When will prices reach a bottom? The answer to that question may depend on when optimism in the stock market reaches a top. Sentiment is now at an unsustainable extreme.
At some point it will reverse. It could happen at the turn of the New Year, which often serves as a catalyst for trend changes. Those who didn't want to book profits toward the end of the year and incur a 2016 tax liability may be inclined to do so come January. For precious metals markets, any tax loss selling pressure will be immediately lifted when the new tax year begins.
Inauguration Day on January 20th could be another potential inflection point. Stock investors may decide to sell the reality of a Trump presidency after buying the hope. Or, perhaps Wall Street will give the new president a Honeymoon rally for a few weeks.
Rather than speculate on the exact timing, we're better off preparing now for an eventual cyclical top in the stock market and bottom in precious metals. U.S. stocks are expensive by virtually any valuation measure you can think of. Hard assets, by contrast, are cheap.
When you think of hard assets investing, gold and silver bullion certainly belong at the core. But there are other metals that may be worth diversifying into as well – platinum, palladium, copper, and rhodium to name a few. You might also consider acquiring gemstones and diamonds.
And on that note Money Metals Exchange is pleased to announce that we are now the only U.S. dealer for VULT diamonds. These highly liquid investment-grade diamonds are being introduced in denominations starting at $10,000.
Money Metals has investigated VULT and the American entrepreneurs behind it. We examined their products, systems, controls, and values. Our conclusion; the VULT system is a genuine innovation which promises to change the diamond market forever. It is backed by serious professionals who can deliver on that promise.
After the initial offering period, VULT units will trade on the open market based on world diamond prices, just as precious metals spot prices move with global supply and demand. And the bid-ask spread should be 3% or less!
That is why we are so pleased to recommend VULT diamonds to our customers. We're excited about the potential for new demand to drive appreciation in value. And we think VULT diamonds are a great way to diversify holdings in rare tangible assets.
For 30 days after your purchase, Money Metals Exchange will buy your VULT diamonds back at 100% of the original purchase price if you decide they aren't for you. This offer stands during this initial offering period. But, frankly, we don't expect to buy many back.
Through the centuries people have found brilliant diamonds alluring and exceptionally precious due to their beauty, rarity, and virtual indestructibility. Yet loose diamonds are impossible to accurately set a value on without a trustworthy, certified gemologist. The lack of liquidity when reselling diamonds has been a real impediment to demand.
VULT removes these and other obstacles to diamond investing. The VULT system for securely packaging certified diamonds in fungible, verifiable units is central to the global financialization of diamonds as a liquid investment asset.
Uniquely numbered, laser-engraved GIA-certified diamonds are sealed in tamper evident capsules, then sealed again in a gleaming individual VULT case. VULTs contain only the highest quality diamonds graded colorless, with excellent cut and the highest range of clarities — the ultra-rare range of stones that historically perform best as an investment.
While each diamond is unique, the total value of the diamonds per unit within a given denomination is essentially identical. Units are therefore interchangeable within each VULT model, resulting in liquidity that was previously unattainable. Each sealed case is also engraved with its own unique registered serial number with instant authentication.
For more information on this unique product, visit our web site at MoneyMetals.com or call us at 1-800-800-1865. Our experts will happily answer all your questions.
Well now, without further delay, let's get right to this week's exclusive interview.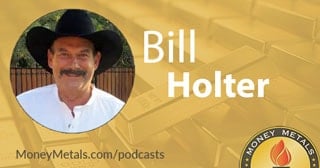 Mike Gleason: It is my privilege now to be joined by Bill Holter of the Holter-Sinclair collaboration and JSMineset.com. Since leaving Wall Street a decade ago, Bill has made a name for himself as an astute and highly respected market commentator, and recently teamed up with Jim Sinclair to help others discover the inherent dangers of our debt based economy and how to protect yourself against it.
Bill, it's a real honor to have you back and I want to thank you for joining us today. Welcome.
Bill Holter: Thanks for having me back.
Mike Gleason: Well, to start out here Bill, I want to get your thoughts on your the equities markets because as our audience may or may not know, you were a long time Wall Street insider in a former life, so all the talk here in recent weeks has been about the Dow and when it will take out 20,000 and just how high it will go. What do you make of this unprecedented streak since the November the 8th election? Because on election night, when it became clear that Donald Trump was going to win, the Dow futures were down huge, but they reversed big time the next day and then they've been on a tear ever since, so what do you think is driving all the euphoria?