Government Bond & Mortgage "Meltdown" Crushes NIRP
Government Bond & Mortgage "Meltdown" Crushes NIRP
And the spike in mortgage rates will come in handy.
The situation in government bonds – variously labeled with "bloodbath," "rout," "carnage" "meltdown," or similar propitious terms – continued on Thursday.
Already in November – so not counting the "carnage" today – the Bloomberg Barclays Global Aggregate Total Return Index lost 4% or $1.7 trillion, according to Bloomberg, "the deepest slump since the gauge's inception in 1990."
While global stocks rallied in November, the gains – $635 billion – were outright puny compared to the $1.7 trillion wiped out in the much larger bond markets.
On Thursday it got worse. It started in Europe where government bonds got crushed after speculation surfaced that the ECB might not keep buying bonds until hell freezes over, that in fact it might begin tapering its QE program as soon as next year. The markets were aghast.
When trading started in the US, all heck broke loose. The 10-year Treasury had already gotten beaten up all November, with the 10-year yield up 56 basis points, the biggest monthly jump since 2009, according to Bloomberg's math. By midday Thursday, the 10-year Treasury had fallen hard, and the yield had spiked to 2.49%, the highest since June 2015, before settling at 2.45%, up 8 basis points for the day (via StockCharts.com):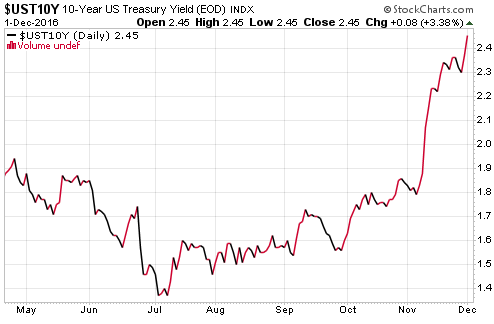 The 30-year Treasury yield jumped 8 basis points on Thursday to 3.10% (via StockCharts.com):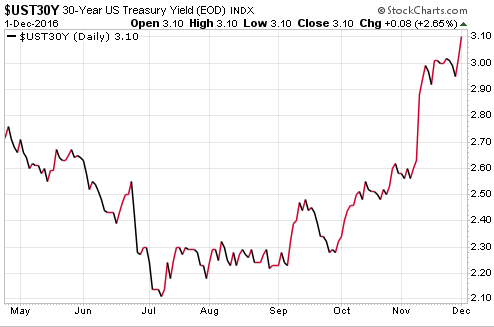 In terms of dollars and cents, the CME CBOT 30-Year US Treasury Bond Price Index has now lost 8.5% since Election Day, and 14.8% since July. This is a bitterly ironic twist for those investors who consider them among the most conservative investments in the world (via StockCharts.com):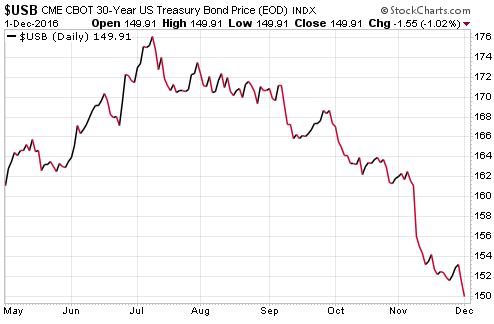 And the mortgage market had another bad-hair day, with the 30-year fixed rates surging to 4.25% for borrowers with high credit scores, and rates were quoted as high as 4.375%, a phenomenon last seen in September 2014.