Subprime Auto-Loan Delinquencies Surge to NY Fed's Attention
Subprime Auto-Loan Delinquencies Surge to NY Fed's Attention
Six million Americans are 90-plus days delinquent.
The increasingly turbulent sector of subprime auto loans bubbled to the attention of the Federal Reserve Bank of New York. In its Liberty Street Economics, it worries about the "notable deterioration in the performance of subprime auto loans" – Fed speak for the momentum with which these loans are going to heck.
About six million people with subprime credit scores (below 620) are now at least 90 days past due on their payments for their car or truck.
The New York Fed worries about the lenders that specialize in these loans, and it worries about the "large number of households" whose vehicles are at risk of repossession: "The increased level of distress associated with subprime loan delinquencies is of significant concern, and likely to have ongoing consequences for affected households," it says.
If the vehicles are repossessed, people might lose their ability to go to work, go to the grocery store, and do the normal things in life that drive the economy forward. Six million people are in that position.
Auto loan balances jumped by a breath-taking $32 billion in the third quarter, to $1.135 trillion, according to the New York Fed's current Household Debt and Credit report today. According to the Board of Governors of the Federal Reserve, which released its own set of numbers a little while ago, auto loan balances jumped by $30 billion in Q3, to $1.1 trillion (chart below). Both agree: It was the biggest jump in auto loan originations in US history for any quarter and year-to-date.
All of it on flat new vehicle sales so far this year: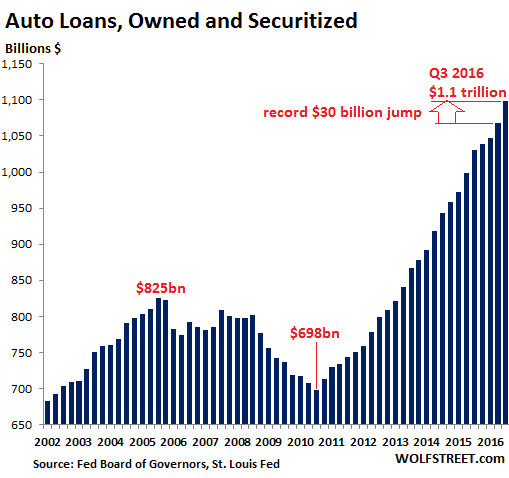 Of these $1.135 trillion in outstanding balances, banks and credit unions originated 49% ($556 billion). Auto finance companies originated 51% ($579 billion). These auto finance companies, such as Santander Consumer USA, are focused on subprime.
Subprime auto loans make up 24% (or $272 billion) of total auto loans.
Banks and credit unions originated only 25%, or $68 billion, of these subprime loans.
Auto finance companies originated 75%, or $204 billion, of these subprime loans.