The "Trump Effect?"
No major consumer confidence measure has been more relentlessly negative since the Financial Crisis than Gallup's weekly Economic Confidence Index. It has become notorious for its gloomy depiction of Americans' feelings about the economy. It was in positive territory only twice: in January 2008, when the index commenced as it was plunging, and in the weeks of December 2014 and January 2015, which Gallup ascribed to the drop in gasoline prices. The rest of the nine years of its existence, the index has been negative.
But in the three survey weeks since the November 8 election, everything changed. And today, the index hit record highs.
Even Americans' views of current economic conditions jumped from dismal to record highs, though the vast US economy could hardly have changed in those three weeks. Not even the government has changed. That's the Trump effect.
It's split by party line. Republicans have become "substantially more positive about the economy," as Gallup said earlier, while Democrats' "former optimism has collapsed."
Today's Economic Confidence Index for the week ending November 27 rose to +6, the highest since the survey began in January 2008, and up from -11 before the election. I circled the 17-point spike in Gallup's chart: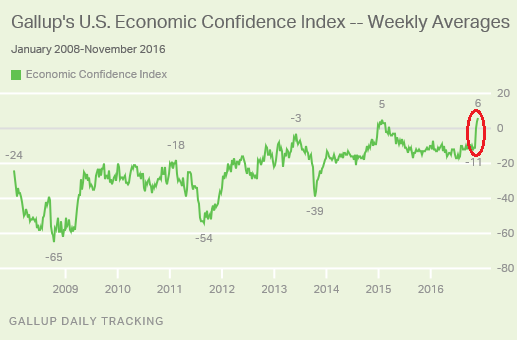 The index is an average of two components: how Americans feel about current economic conditions; and how they rate future economic conditions – whether the economy is going to get better or worse. In theory, the index ranges from +100 (all respondents say the economy is great and getting better) to -100 (all respondents say the economy is bad and getting worse). During the Financial Crisis, the overall index bottomed out -65. And today, it set a record high of +6.
Current conditions: with only 22% of Americans considering the economy "poor," the current conditions index rose to a record +8, up from +6 last week and from 0 the week before the election.