What Happens "If the Boom Ends with a Bang?"
What Happens "If the Boom Ends with a Bang?"
OECD frets about Canada's House Price Bubble
In its economic outlook released today, the Organisation for Economic Cooperation and Development (OECD) is generally gung-ho about the Canadian economy, and practically bubbling over with new enthusiasm for the global economy. It now expects global growth to accelerate from 2.9% this year to 3.3% in 2017 and to 3.6% in 2018. Call it the "Trump effect" gone global.
But for Canada, despite its hunky-dory economy due to the "moderately expansionary policy stance in the 2016 federal budget," the OECD has a stark warning: "House prices, housing investment and household debt are very high, posing financial stability risks."
The OECD's chart shows the house price indices for Vancouver and Toronto, which make up about one-third of the national housing market, versus the index for the rest of Canada. Note the hook at the top of the red line: a feeble sign that house prices in Vancouver might be heading south: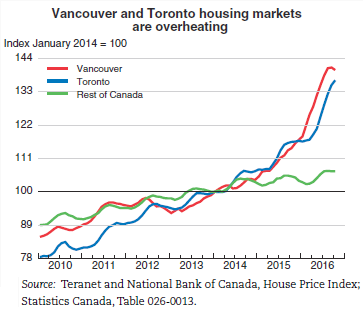 And there is a risk of "a disorderly housing market correction, particularly in the high-price Toronto and Vancouver markets," the report warns. How far in the future could this be? Last month, I pointed out the divergence now appearing, with Vancouver in turmoil, and Toronto in a price spike [There's No Plateau in a Housing Bubble, Not Even in Canada].
A "disorderly housing market correction," as envisioned by the OECD, would reduce residential investment, which has become a key in the Canadian economy. Through the reverse "wealth effects," private consumption would take a hit, and in the end the banks are on the line, and it "could threaten financial stability."
[I]nterest rates have fallen to very low levels. This has added  further fuel to already overheated housing markets in Vancouver and Toronto and  encouraged Canadian households to take on even more debt, the repayment of which  might be problematic. Both of these effects have increased financial stability vulnerabilities.