Strongest Pillar of Shaky US Economy has Cracked
Strongest Pillar of Shaky US Economy has Cracked
"Car Recession" now expected to spread to 2017.
A "car recession," as the industry is calling it, or the "so-called car recession," as Ford called it on July 28 in its 10-Q filing, is taking hold. The more politically correct term that Ford also used is the "plateauing" of industry volume. Which means, after six boom years, sales are going down.
They're not crashing, for the moment. They're facing tough headwinds, and so they're drifting lower, despite enormous industry efforts to prevent it, and they're now expected to drift lower next year as well.
Steven Szakaly, chief economist of the National Automobile Dealers Association (NADA), which represents about 16,500 new vehicle dealers in the US, forecast that sales of new cars and light trucks in 2017 will drop to 17.1 million.
"We are headed toward a stable market for US auto sales, not a growing market," he said. "The industry has achieved record sales, and pent-up demand is effectively spent."
In 2016, sales are likely to be around 17.4 million vehicles, down from 2015, when a record 17.5 million vehicles were sold.
NADA forecasts have been over-optimistic before. Industry insiders are not good at predicting a downturn. No insider wants to predict it. And everyone is doing what they can to prevent a downturn. But if 2017 sales come in at 17.1 million, it would be the second year in a row of declining sales.
This chart by Trading Economics shows new vehicle sales per month, at the Seasonally Adjusted Annual Rate (SAAR), which in October was 18 million, which means that at this rate, there would be 18 million vehicles sold in the year: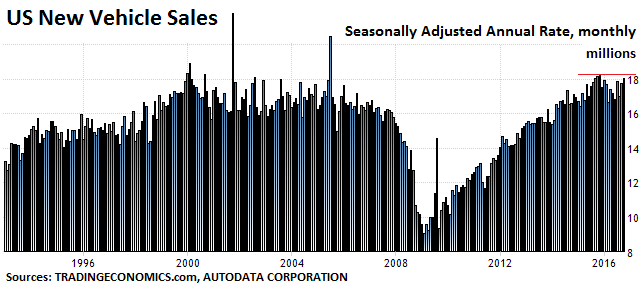 The auto industry is crucial to the US economy. It has large complex design, manufacturing, and supply-chain operations in the US. There is finance and insurance and service involved. Railroads, trucking, port installations, and many other sectors feed off it. The booming auto sector has been one of the most important props under the otherwise shaky economy.
But even that sales decline in 2017 to 17.1 million vehicles would require some big assumptions to come true, according to Szakaly:
GDP growth of 2.6%, a rate it reached only twice over the past ten years, in 2015 and in 2006.
Employment growth between 150,000 and 180,000 jobs per month.
And a price for regular gasoline of less than $2 per gallon, despite the oil industry's belief that the price of oil is going to rise.
But there are some big headwinds. 
Interest rates are rising. The NADA hopes that the incentives the manufactures pay out to stimulate sales and trim down inventories for their brands will instead compensate for rising interest rates.