Michael Pento Exclusive: Trump Honeymoon Won't Last, 2017 Crash Likely (Podcast)
Michael Pento Exclusive: Trump Honeymoon Won't Last, 2017 Crash Likely Podcast
Coming up we'll hear from Michael Pento of Pento Portfolio Strategies and author of the book The Coming Bond Market Collapse: How to Survive the Demise of the U.S. Debt Market. Michael tells us whether or not the correction in metals is going to last much longer. He also makes a couple predictions about a Donald Trump presidency and the breaks down what he sees as the most likely scenario when it comes to inflation and interest rates. Make sure you stick around for a fantastic interview with Michael Pento, coming up after this week's market update.
An upside breakout in the U.S. dollar is making for another rough week in the gold and silver markets. On Thursday, the Dollar Index hit a 13-year high.
Traders are bidding up Greenbacks on account of rising U.S. interest rates. The yield on the 30-year Treasury bond has surged from an historic low of 2.1% in July all the way up to 3% in the past few days. Rates on short term bonds had held steady through October, but they are now also starting to rise. For the first time this year, the bond market is telegraphing a near certain rate hike by the Fed at its next meeting. That meeting will take place on December 13th – 14th.
In the meantime, a stronger dollar will continue to be a headwind for precious metals markets. As of this Friday recording, gold shows a weekly loss of 1.8% to bring spot prices to $1,208 an ounce. Silver prices are down nearly a dollar or 5.3% to trade at $16.56 per ounce. And platinum is off 2.8% this week to trade at $921.
The lone bright spot in the metals space – and for the second week in a row now – has been palladium. It often bucks the general trend in precious metals markets and is doing so in a big way this week. Palladium prices actually surged to a new high for the year on Thursday. As of Friday, palladium registers a 5.9% advance for the week, on the heels of a 7.6% gain last week, and now trades at $719 an ounce.
We've talked about the value of palladium as a portfolio diversifier before. Most metals investors remain underexposed to palladium, which is used in auto catalysts and is now in short supply. The palladium market will finish the year with a supply deficit of around 650,000 ounces. It will experience a similar shortfall in 2017 if forecasts for rising automotive demand prove out.
The silver market is also coming in at a deficit this year, with 52 million more ounces consumed than produced. The deficit would have been even larger if not for a drop off in demand during the second half of 2016. Silver mining output is now also on the decline, reversing a multi-year expansionary trend. So even a small uptick in demand next year could widen the supply deficit and put significant upward pressure on prices.
Of course, any deficits in metals markets will be dwarfed by the one in Washington. The 2017 fiscal year started 46 days ago, and in the short time since, another $295 billion has been added to the national debt.
By the time Donald Trump is sworn in as president, the total national debt will exceed $20 trillion. Given his promises to not touch entitlements, to rebuild the military, and to spend big on infrastructure, there is no reason to expect the budget deficits to close.
The only thing Trump might be able to do is make the debt more manageable by growing the economy. The problem with that is, if he does achieve higher rates of GDP growth, then higher inflation and higher interest rates could be the side effects. Coming off of record low long-term rates in 2016, the government's debt servicing costs could soar next year and beyond if interest rates continue rising.
Right now, the threat of rising rates has traders punishing the gold and silver markets. But in the months ahead, the perceived threat could shift to that of inflation and the Fed being behind the curve. Precious metals tend to thrive in that sort of environment. When inflation outpaces rate increases, then rates are trending in a negative direction in real terms. Negative real interest rates are bullish for hard assets, regardless of whether nominal rates are heading up or down.
That's the big picture for precious metals. Even though it doesn't look pretty right now given the selloff of the past two months, gold and silver markets will find a bottom if they haven't already put one in.
Well now for more on the post-election market reaction, what's ahead for the all important bond market and a key outlook on precious metals in the months and years ahead, let's get right to this week's exclusive interview.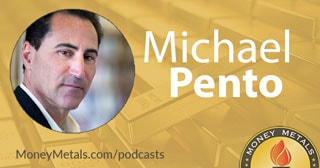 Mike Gleason: It is my privilege now to welcome in Michael Pento, president and founder of Pento Portfolio Strategies and author of the book The Coming Bond Market Collapse: How to Survive the Demise of the U.S. Debt Market.Michael is a money manager who ascribes to the Austrian School of Economics and has been a regular guest on CNBC, Bloomberg, Fox Business News, and also the Money Metals Podcast.
Michael, it's always great to have you on. Thanks for joining us today and welcome back.
Michael Pento: The best of all that list is the Money Metals Exchange. How's that, Mike?
Mike Gleason: Well, thank you very much, again, for being generous with your time. Before we go any further, I would be remiss if we didn't get your thoughts on what we saw with the presidential election. Trump defied the odds and managed to upset the establishment, similar setup to what we saw with Brexit with most pollsters completely missing the boat. They were calling for the mainstream political establishment to come away with the win, only to find out that the other side was pretty worked up and came out to vote in droves. Was it all that surprising that Trump rode a similar wave of dissatisfaction for the status quo to victory? What did you make of how it all played on in the end, Michael?