It Gets Ugly in Houston
It Gets Ugly in Houston
Auto Sales, Construction Get Totally Crushed.
When the oil bust started in July 2014, it was just a blip. By 2015, bankruptcies were cascading through the oil patch. In early 2016, with WTI down over 70% from its pre-bust levels, it got even worse. But the price has recovered some, and new money is flowing back into the sector, and so it would seem that there'd be some kind of recovery in Houston.
But the opposite is the case: it's now getting really tough.
Sales of new cars and trucks fell 17% in October year-over-year, according to TexAuto Facts, published by InfoNation via Greater Houston Partnership. It was the tenth month in a row of year-over-year declines. So far this year, sales, at 253,000 vehicles, have plunged 22.1% compared to the same period last year.
New car sales plunged 19% in October and 30% year-to-date. Texas is truck country. About three-quarters of all passenger vehicles sold are trucks or SUVs. So you'd think trucks would be the last thing people delayed or stopped buying. But no. Sales of new trucks, SUVs, and vehicles with commercial tags plunged 16% in October and 17% year-to-date.
There are about 175 new car and truck dealers in the Houston Metro area, with over 30,000 employees, according to the Houston Automobile Dealers Association. It's big business. And this chart of rolling 12-month vehicle sales (via the Greater Houston Partnership) shows the ongoing plunge this year, which I circled in red: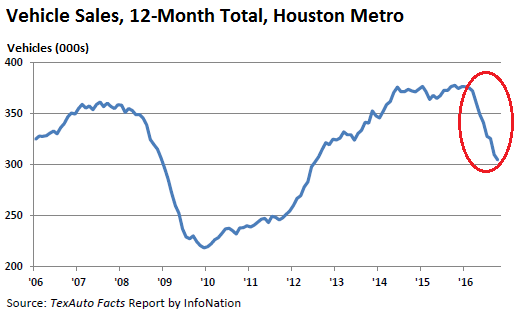 The employment situation in Houston is mixed, as they say. The service sector is doing OK-ish, with jobs increasing by 1.7% year-over-year in September. The goods producing sector has shed 5% of its employees year-to-date. The overall unemployment rate has risen from 4.8% in September last year to 5.7% in September this year.
So you'd think that an increase in unemployment of less than 1 percentage point shouldn't entail a 22% plunge in vehicle sales.