Bank of England Trips over London House-Price Bubble, Hilarity Ensues
Bank of England Trips over London House-Price Bubble, Hilarity Ensues
"Landlords have been unable to raise rents…"
The legendary, magnificent, frequently discussed, and all-in-all mind-blowing house price bubble in Prime London finally came to the attention of the Bank of England. On its blog, "Bank Underground," this discovery comes with a big-fat caveat:
Bank Underground is a blog for Bank of England staff to share views that challenge – or support – prevailing policy orthodoxies. The views expressed here are those of the authors, and are not necessarily those of the Bank of England, or its policy committees.
I get it. It's not official. In official circles at the BOE, the house price bubble in Prime London and other parts of London, for that matter, is still dormant.
Nevertheless, the blog post shows some of the marvelous aspects of this creation of central-bank policies, Russian-oligarch money, the adjacent City of London financial district, and other influences.
Since 2005, according to the BOE, home prices have nearly tripled! This has happened under the watchful eyes of the BOE itself, whose headquarter in the City of London would give it a good vantage point. And we've marveled over the years how these house prices have gone out of whack.
OK, Prime London is special (Google Maps). It includes Hyde Park in the middle, with Buckingham Palace, Chelsea, Paddington, Regent's Park, the British Museum, etc. clustered around it. In other words, if you have money, it's the place to be.
So the BOE is a little puzzled:
Economic theory suggests that property prices and rents should move together: rents represent the flow of housing services gained from living in a property, and prices are determined by the discounted value of all future rents.
And that's not what has happened in Prime London, or for that matter, in any of the other cities around the world that are now proud examples of housing bubbles.
Rents in Prime London actually surged too, by nearly 40% over the ten years, but not nearly as fast as house prices: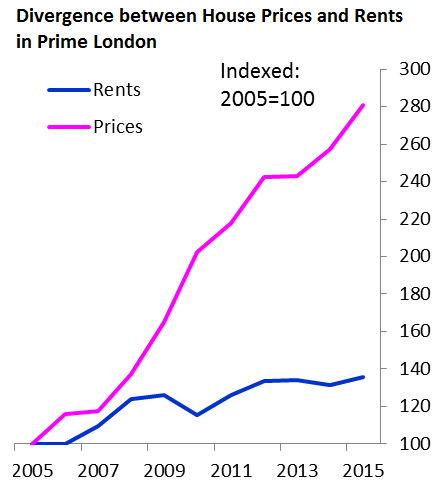 And this has a nefarious effect on landlords, because yields from rental properties have dropped "to between 3% and 4%."