Urgent: War on Cash Exposed, Rickards Reveals All
Urgent: War on Cash Exposed, Rickards Reveals All
"I meant The Road to Ruin to be a fire bell in the night," Jim Rickards explained upon the release of his latest book, "warning everyone I can about the crisis I see coming and what they can do to protect their wealth. I promise you, governments and the global elites don't want this book to exist."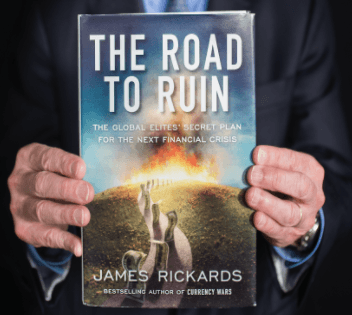 As you may've heard, Rickards just released The Road to Ruin this month. And, to say the least, it's a doozy. In the fight for centralization, the elites must know time is running out.
So, it's full speed ahead.
I'm especially interested in Rickards' predictions after seeing him successfully predict both Brexit and Trump's presidency.
And here's just some of what I've discovered in his new book so far:
➤ A tyrannical tool used to steal your wealth that, when revealed to Americans, will cause confusion, stealth financial losses and dismay. Start at the top of Page 68 to get the full story
➤ Why Dec. 18, July 28, Aug. 4 and Aug. 15 are four crucial dates you need to put on your calendar that mark the elites' quiet ongoing crusade for a centralized, global monetary system. Page 61
➤ Rickards' horrifying discovery about what's coming for the economy and the market in 2017. "The U.S. government granted me a special clearance to report," he said, "which led me to the terrible conclusion that…" He reveals his conclusion publicly for the first time on Page 98.
➤Shocking details of what may be called the "World Citizens Database." (Prepare for your unique global identifier number.) "It will help the global elites make sure you pay your 'fair share' in taxes and much more." Rickards reveals all the official proof, starting on Page 77
➤The New World Order that will be imposed on the entire planet. (Put away the tinfoil hat. This is very real, and it will undermine individual governments and your personal liberty.) "The well-documented truth is on Page 86," says Rickards, "is much more frightening than any fiction I or anyone else could ever dream up."
Rickards wants to share this book with anyone he can. Which is why, while everyone else pays $23, he's giving it out to YOU for free. "It's not about the money for me," he explained. "Getting the message out is far more important."
Today, to show you just how urgent the material in this book really is, Rickards will talk about the War on Cash and why now, more than ever, it's beginning to escalate to a whole new level of financial tyranny.
Read on.
[Ed. note: Keep what you read in your free copy of Rickards' book in mind while you're out running errands today or tomorrow. Cash is under attack. And there are a few things you can do today to protect yourself. Click here to reserve your free copy of Rickards' book right now, before it's too late.]