Who'll Get Hit by Fallout from the $11-Trillion Commercial Property Bubble in the US?
Who'll Get Hit by Fallout from the $11-Trillion Commercial Property Bubble in the US?
It's the banks they're worried about.
Warnings about the loans, bonds, and commercial-mortgage-backed securities (CMBS) tied to the vast $11-trillion commercial property sector in the US have been hailing down for months. Moody's Investor Services just warned about the rising delinquency rate of some $360 billion in CMBS it rates. Delinquencies of 60+ days jumped from 4.6% last year to 5.6% in September.
Fitch Ratings has been fretting about valuations in the sector, and CMBS, for months. "Valuation and lending trends are not sustainable in the medium term," it said most recently in its November report. It pinpointed debt backed by apartment buildings as a particular trouble spot. But now it's also fretting about construction loans, which "experienced the highest loss severity in the last crisis, and we expect a similar trend in the next downturn," it said.
It's worried about the banks, whose commercial real estate (CRE) lending has reached "record levels":
All of the most concentrated banks – those with more than 300% of risk-based capital in CRE – have less than $50 billion in assets and most have assets below $10 billion. These smaller banks also have varying degrees of sophistication in their risk management practices.
Fitch laments that the "timing and severity of this softening is uncertain and depends on factors including interest rates and overall economic conditions."
Alas, since the report was released on Election Day, interest rates have alread jumped. This comes at the worst possible moment, at the peak of the most gigantic CRE price bubble the US has ever seen.
The Green Street Commercial Property Price Index has soared 107% from the trough in May 2009 and now exceeds the peak of the totally crazy bubble in 2007 by 26%: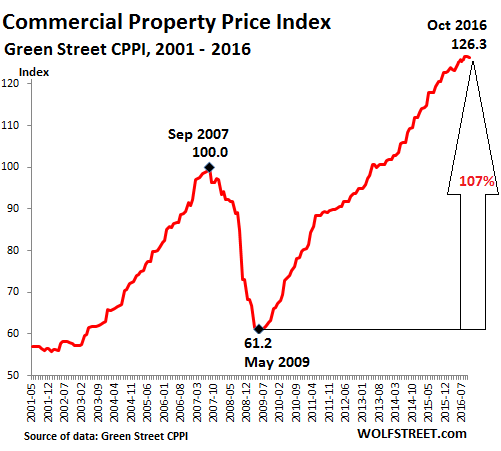 But it may have run out of steam. The index edged down in October, has been uncharacteristically flat for the past three months, and is up only 4.7% for the year – after annual increases that were often in the double digits.