Whiff of Panic in Miami's Condo Market
Whiff of Panic in Miami's Condo Market
"Something unexpected may occur due to imbalances in the market."
The Miami-Dade County condo market is coming under severe stress, and turmoil is spreading. There are two aspects: supply and sales activity overall, and the more obscure but highly indicative "preconstruction market."
Preconstruction condos are a favorite playground for condo flippers. They buy the units before construction begins. When the building is completed, some of the buyers (in recent years 30% to 40%) flip their units at a profit, benefiting from the run-up in condo prices in the interim. This activity is crucial in helping developers fund their working capital. Alas, the math has stopped working.
The overall condo and townhouse market in Miami-Dade County is already in trouble. In October, sales plunged 30% year-over-year, while inventory for sale rose to over 14,000 units as of November 1, according to StatFunding's Preconstruction Condo Market Update.
At the current sales rate, that makes for over 13 months' supply. The blue bars in the chart from StatFunding represent the swooning sales (in units, left scale). The green line represents the ballooning inventory (in units listed for sale, right scale):
There is some seasonality. So here is another way of looking at these sales on a year-over-year basis (red line = 2016 sales):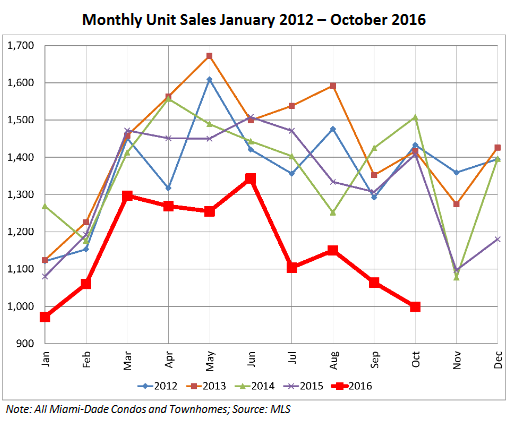 Behind the scenes, it looks a lot worse: the preconstruction market is in the process of unraveling. A total of 4,525 condos were completed between 2012 and 2016 at 20 large projects (80+ units each). Of them, 878 "preconstruction" units are now listed for sale by investors who'd bought from developers before construction began – 19% of the total units in those projects! At the 234-unit Marina Palms North, completed a year ago, 93 units are for sale.
But only 47 resales have actually occurred over the last six months. This makes for a supply of 112 months, or nearly a decade, at the current sales rate. At seven of those developments, with a combined 209 units listed for sale, no sales have occurred over the past six months, and the months' supply would be infinite.