The New Nobility Uses Political Correctness to Fragment the Precariats
The New Nobility Uses Political Correctness to Fragment the Precariats
Combine identity politics with political correctness, and the New Nobility/Oligarchy can laugh their way to the bank while their pawn-serfs fight over how many politically correct angels can dance on the head of a pin.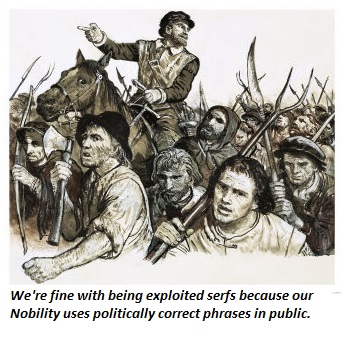 I have long held that our economy is, stripped of propaganda, nothing but an updated version of feudalism, i.e. neofeudal: a vast class of precarious laborers (i.e. precariats–precarious proletariats) who own little to no wealth-producing capital ruled by a New Nobility/Oligarchy that owns the vast majority of wealth-producing capital and control of the political system.
I explained this structure in America's Nine Classes: The New Class Hierarchy (April 29, 2014), Neofeudalism 101: Strip-Mining the Upper Middle Class (April 8, 2015) and The Class War Has Already Started (November 14, 2015).
In the Marxist analysis, there are only three classes: those who must sell their labor to earn a livelihood, those who earn their livelihood from owning wealth-generating capital, and the dispossessed/ marginalized who are dependent on the state (bread and circuses) or who scrape out a living on the margins of the lawful economy.
In this view, there is no meaningful class difference between the well-paid liberal technocrat with the $1 million (mortgaged) house on the Left/Right Coast and the rural conservative "deplorable" wage earner. Both must sell their labor and neither earns a livelihood from wealth-generating capital.
If we extend this analysis, we find that the entire self-described "middle class" is in fact nothing but the better paid slice of the working class, i.e. the class who must sell their labor to pay their rent/mortgage, buy food, etc.
Both are precarious, but not equally so. The well-paid technocrat believes his skills will protect him from unemployment, and he is equally confident that the "wealth" in his mortgaged house and stocks/bonds 401K retirement account is secure and permanent.