Will the "Rout" in Government Bonds Turn into Carnage?
Will the "Rout" in Government Bonds Turn into Carnage?
"Inflation Trade" Heats Up, "Greater-Fool" Trade Falls Apart
The Government "bond rout" didn't start with Trump's election victory. It started in July. And it didn't just hit US Treasuries. It hit government bonds around the world. It's predicated on the idea that inflation was raising its ugly head again. That idea has now become further entrenched.
The threat of inflation puts holders of low-yielding or zero-yielding long-term bonds in a very foul mood because the purchasing power of their capital gets destroyed without compensation.
It hit US Treasuries particularly hard. Central banks can push down long-term rates by buying bonds. The ECB and the Bank of Japan are doing that. But the Fed has been flip-flopping about raising rates. There is a good chance it will raise them another notch in December, from nearly nothing, by almost nothing, to next to nothing. So it isn't going to revolutionize short-term rates. But it does point out that long-term rates in the US are on their own.
Then Trump won. He'd campaigned on a big deficit-funded stimulus program that includes a military buildup and – by golly, much needed – infrastructure work, funded, so to speak, by corporate and individual tax cuts….
The US bond markets reacted with a vengeance. They figured that these plans, once they sail through the Republican Congress, would create much larger deficits which would have to be funded by an onslaught of new bonds that somebody would have to buy, and that somebody wouldn't be the Fed.
Dreading this supply, bond traders went out and cut great-big holes into the most magnificent bond bubble in history, and what we've been hearing since this act of Fed-defying vandalism is the deafening sound of hot air hissing out of it.
Today, Veterans Day, the US bond markets are closed, which may be a good thing. It gives them an extra day to take a breath. Because over the last three trading days, the US 10-year yield has skyrocketed 35 basis points, from 1.8% to 2.15%. That's a huge move (chart via StockCharts.com):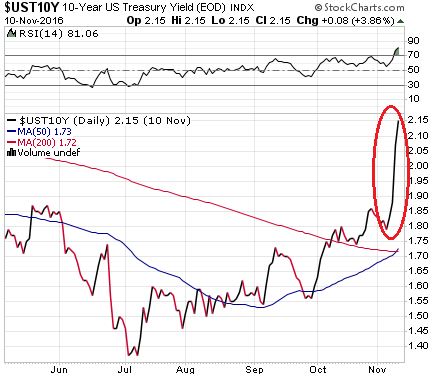 Since early July, the 10-year yield has jumped by 77 basis points. So what does this mean for bondholders, in dollars and cents? Bond prices fall when yields rise. This chart (via StockCharts.com) shows the CBOT Price Index for the 10-year note. It's down 4.5% since July.