Hemke: Nothing Has Changed… A Debt Train Wreck Is Inevitable, Even with Trump
Hemke: Nothing Has Changed… A Debt Train Wreck Is Inevitable, Even with Trump
Well, the strangest and most unpredictable election cycle ever produced a seemingly improbable outcome. The major polling averages showed Hillary Clinton ahead. Political betting markets gave Clinton an 85% chance of defeating Donald Trump. None of the top pundits and forecasters featured on CNN and other establishment media outlets called for a Trump victory.
The elite media has been getting Donald Trump's campaign wrong since the day he announced his candidacy. Only the alternative media has been getting it right. Independent analysts such as James Rickards, who appeared on this podcast earlier this year, correctly predicted Trump would win. And two weeks ago you heard our guest expert Michael Rivero predict that Trump would ride to victory unless the election was stolen, and last week Gerald Celente told us the same thing.
Fortunately for our republic, both Hillary Clinton and Barack Obama accepted the results of the election. Some of Hillary's supporters aren't being quite as magnanimous, though. Disruptive and at times violent anti-Trump protests hit Chicago, Oakland, New Orleans, Austin, and other cities.
Despite some unrest and some uncertainty about what lies ahead for the country, financial markets seem to be coping well with the new reality of President-Elect Trump. After Dow futures plunged more than 800 points on election night, the blue chip average closed up 260 points Wednesday. Stocks extended their gains Thursday to record new all-time highs and put the Dow on track for its biggest weekly gain of the year. What a way to kick off a new era in American politics.
As for the precious metals markets, gold futures surged to $1,340 an ounce early Tuesday morning, but gold gave back all of its safe-haven gains as investor fears subsided. And now today, gold prices have continued to sell off and currently come in at $1,235, down 5.4% for the week.
Audio MP3 Download/Listen HERE>>>
Silver was faring better and was actually up slightly through Thursday's close, but the white metal is getting beat up today and is registering a 3.6% decline now on the week to trade at $17.84 per ounce as of this Friday morning recording.
Platinum is down like gold and silver, off 5.0% to trade at $953 an ounce, while its sister metal palladium is outshining all the other precious metals and comes in 8.2% higher on the week at $683 despite pulling back some here on Friday.
But the biggest mover in the metals space post- election has been copper. Copper prices surged 13% this week to new highs for the year. The economically sensitive base metal is moving on expectations of a Trumpian surge in infrastructure and construction spending.
If you are bullish on the Trump economy, then copper may be the metal to buy ahead of his inauguration. Money Metals Exchange sells 1-ounce pure copper rounds as well as bags of copper pennies. Today's pennies are made mostly of cheaper zinc, but prior to 1982 they were 95% copper. Having a bag of pre-1982 copper pennies could come in handy for small barter transactions. Your penny stash could also gain considerable value if copper prices continue on an upward trajectory in the Trump administration.
We don't yet know exactly how Trumponomics will play out. The economy could get a boost from some of the tax cuts and regulatory reforms Trump vows to pursue. With Republicans managing to hold on to majorities in both the House and Senate, President Trump could potentially get a lot of things done. But it won't be as easy to "drain the swamp" as he vowed to do. Washington is institutionally resistant to change.
And President Trump won't be able to exert any real influence over the monetary policies of the Federal Reserve during his first year in office. Janet Yellen will presumably continue presiding over the Federal Reserve Board, at least through the rest of her four year term that ends in January 2018. Since the Fed is an "independent" organization, Trump wouldn't be able to fire her even if he wanted to do so. Yellen could resign before her term ends, but there are no indications she will. Fed chairs typically stay through different administrations.
Trump complained during the campaign that under Janet Yellen's leadership, the Fed became too political.
Donald Trump: "We have a Fed that's doing political things… this, Janet Yellen, of the Fed."

Wall St Journal Reporter: Trump has already said he probably won't nominate Yellen to continue as Fed Chief after her current term expires in early 2018 and would instead prefer to tap a Republican for the job. Since he's criticized Yellen for holding rates low, investors might expect his pick to raise rates more aggressively.
Of course, it's easy for a presidential candidate to call for more restrained monetary policies while campaigning. But it's harder to resist the power of the printing press once you're actually in office. So don't expect Donald Trump to appoint someone who vows not to intervene during recessions and stock market crashes.
But who knows? Trump is open to thinking outside of establishment boxes. He has called out international bankers and spoken favorably about a gold standard. There may be opportunities for sound money advocates to make inroads within his administration. Perhaps he would consider someone like Jim Rickards or Steve Forbes – both gold proponents – for Treasury Secretary. The news that Trump approached Jamie Dimon – head of JP Morgan, who apparently declined the offer – leaves us a bit skeptical that any real change is coming in monetary policy, but time will ultimately tell.
Trump ran as an outsider. He will surely let down his most enthusiastic supporters if he fills his cabinet with the same types of establishment insiders who would have occupied a Jeb Bush administration. GOP primary voters wanted a different kind of Republican. And Americans who went to the polls on Tuesday wanted a different kind of president. Trump now has the opportunity to become what he promised he would be.
Well now for more on what a Trump presidency is likely to mean for metals and markets, let's get right to this week's exclusive interview.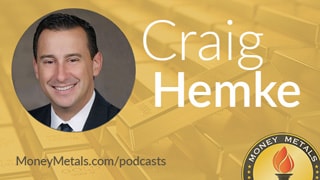 Mike Gleason: It is my privilege now to welcome in Craig Hemke of the TF Metals Report. Craig runs one of the most highly respected and well-known blogs in the industry and has been covering the precious metals for close to a decade now, and he puts out some of the best analysis on banking schemes, the flaws of Keynesian economics, and evidence of manipulation in the gold and silver markets.
Craig, it's always great to have you back. Thanks for joining us again today, and welcome.
Craig Hemke: Hey, Mike, thanks, and I appreciate all the kind words.
Mike Gleason: Well, Craig, I'm really glad I was able to get you on here today because I wanted to have you help us digest the election results and what it all means for the markets. Now, I want to ask you about the initial reaction of the economic markets once it became clear Donald Trump was going to win, but before we get into that, first off, what did you make of Trump not only defying the polls and beating Hillary, but beating her rather convincingly? What did that say to you about the state of our country and our economy that an outsider like Trump was able to pull off what he did?
Audio MP3 Download/Listen HERE>>>