Mainstream Media vs America
Mainstream Media vs America
In August 2016 when CNN Anchor Chris Cuomo admitted on national television that the mainstream media were "the biggest ones promoting" the Hillary Clinton campaign and that the MSM was giving her a "free ride," many pointed to it as proof of the media bias they had been witnessing since the party conventions had ended, where 91 percent of the coverage of Donald Trump being negative with only 38 percent of Clinton coverage being negative.
A quick reminder of those words, from the horses mouth so to speak, below before we delve into the recent Wikileaks bombshell that shows it is not just bias, but actual collusion between the Clinton campaign and journalists, national reporters and television anchors that began before the Clinton campaign officially launched.
In the next 15 second clip Cuomo tells CNN viewers to "remember, it is illegal to possess these stolen documents," meaning the Wikileaks hack email releases, and "it's different for the media, so everything you learn about this, you're learning from us."
WHAT THE MSM ISN'T TELLING AMERICANS
That is a critical 15 second statement because there is one specific Wikileaks release that CNN and a number of other outlets have notinformed their viewers about, specifically the fact that dozens upon dozens of "influential reporters, anchors and editors," were invited and accepted invitations to "off-the-record cocktails," with Clinton campaign members days before Clinton launched her campaign.
Inlcuded in the list of  Clinton campaign "goals" of conducting these "off the record" dinners and cocktails with these media members, is "Framing the HRC message and framing the race."
The lists of these media members can be found at Breitbart, and in going through the list, as well as searching for the national coverage by these very same reporters, we see nearly all of them have consistently reported negatively about Donald Trump while giving Hillary Clinton a "free ride," by either downplaying or totally ignoring her scandals, including the Clinton Foundation, pay-to-play, and her email server scandal.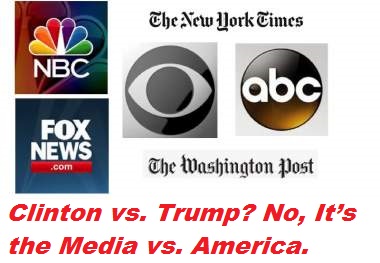 The combined lists, which include more than one get together, shows members from ABC News, CBS News, CNN, Bloomberg, Daily Beast, Huffington Post, MSNBC,  NBC, New Yorker, New York Times, People, Politico, AP, BuzzFeed, Reuters, and WSJ…. and those are the ones that RSVP'd saying they would attend.
Plugging the names on the list into the search engine along with Clinton and Trump's names, we see a pattern emerge, showing anti-Trump negative and consistent coverage with pro-Clinton positive and consistent coverage.
For example, ABC's Cecilia Vega in reporting on the final presidential debate, lamented how Latino's were "were crying, they were offended, downright disgusted," over Trump's use of the phrase "hombres line," as she declared how "brave" Clinton was.
Via NewsBusters:
Aside from the barrage of coverage following Wednesday's final presidential debate concerning Donald Trump's non-commitment to accept November's election results, there were a few instances where that wasn't discussed and ABC used their precious airtime to inform us Latinos "were crying" over Trump's "hombres line" and assured viewers that "Hillary clearly won" the face-off.
Clinton campaign correspondent and Saturday World News Tonight anchor Cecilia Vega reported from the spin room that, for the Clinton camp, it was her "best debate" because "she bravely confronted women by quoting Donald Trump, using his own words" despite being "bothered" about Trump's election comments.
Another ABC News journalist on the list of those that accepted the inviation to the off-the-record event with the Clinton campaign staffers, is George Stephanopoulos, who many young voters do not know, was a leading member of Bill Clinton's 1992 U.S. presidential campaign and was part of the Clinton administration until he resigned shortly after Clinton was re-elected in 1996. (Source)
In May 2015 it was reported by Politico and others that Stephanopoulos had also donated $75,000 to the Clinton Foundation, to which he did not disclose to ABC News' viewers until after he was revealed by other sources.
ABC News chief anchor George Stephanopoulos has given $75,000 to the Clinton Foundation in recent years, charitable contributions that he did not publicly disclose while reporting on the Clintons or their nonprofit organization, the On Media blog has learned.
In 2012, 2013 and 2014, Stephanopoulos made $25,000 donations to the 501 nonprofit founded by former President Bill Clinton, the foundation's records show. Stephanopoulos never disclosed this information to viewers, even when interviewing author Peter Schweizer last month about his book "Clinton Cash," which alleges that donations to the foundation may have influenced some of Hillary Clinton's actions as secretary of state.
While previous examples can be found, the latest example of Stephanopoulos' pro-Hillary, anti-Trump bias could be seen in his sit down one-on-one with Donald Trump last week, where he was grilling Trump about his campaign against Hillary, to which has made seriously amusing headlines after the following exchange when Stephanopoulos asked Trump "When you look back over the sweep of this campaign going back to last June is there anything you regret?" Trump replied "I'd love to have done, in life, certain things over I guess. And you would have too." Stephanopoulos then made the mistake of asking Trump to name one, to which Trump shot back with "You would love to have not contributed to the Clinton Foundation as an example. There are things you wish you didn't do. Okay?"
Watch Stephanopoulos' body language and face after that, below:
-->