US Freight Volume Drops to Lowest Level since 2009, "Industrial Recession" Hits Full Stride, Overcapacity Crushes Rates
"We've been patiently waiting for the consumer."
The Cass Freight Index, tracking US shipment volumes by all modes of transportation, fell 3.1% in September from a year ago, the 19th month in a row of year-over-year declines, and the worst September since 2009.
Donald Broughton, Chief Market Strategist at Avondale Partners, wrote in the report:
After offering a glimmer of "less bad" hope in August [the index was down "only" 1.1% year-over-year], the Cass Freight Index shipments data in September disappointed, providing hindsight that August only gave us "false hope."

September data is once again signaling that overall shipment volumes (and pricing) continued to be weak in most modes, with increased levels of volatility, as all levels of the supply chain (manufacturing, wholesale, retail) continue to try and work down inventory levels.
There were some areas of growth for shipments. Ecommerce has been reliably booming, as brick-and-mortar retailers lose their footing, a structural shift in the retail industry that will continue to play out over the years. Shipments for the auto and housing/construction industries also grew in September, but at a lower rate.
Alas, shipping for the auto sector will be getting hit further: sales declined in September year-over-year, inventories have reached worrisome levels – 95 days' supply for F-series trucks, when 60 days is more than enough – and production cuts and layoffs are already being announced.
"Bottom line, the Industrial Recession in the US that began in March of 2015 continues to weigh on overall volumes," Broughton writes.
The Cass Freight Index is not seasonally adjusted, so it shows strong seasonal patterns. In the chart, the red line with black markers represents 2016. The multi-colored tangle above it represents the years 2011 through 2015. In terms of the goods-producing economy, which relies on transportation to get its merchandise delivered, this is the "economic recovery" in 2016 so far. Note that September is supposed to be the peak shipping season, but the index declined instead of rising: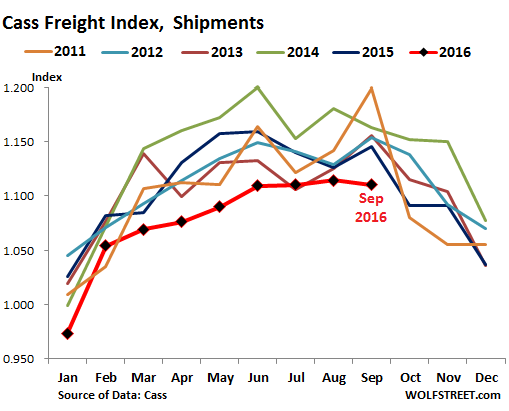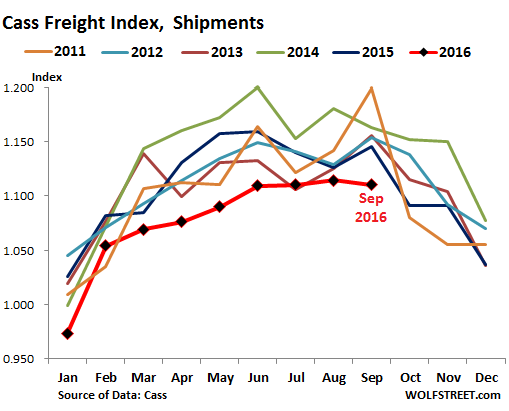 The index is based on "more than $26 billion" in annual freight transactions, according to Cass Transportation. It does not cover bulk commodities, such as oil and coal but is focused on consumer packaged goods, food, automotive, chemical, OEM, and heavy equipment, shipped via truck, rail, barge, and air.
Among those categories, rail has been taking the biggest hit in recent months, and did so again in September, with volumes of containers and trailers (intermodal) falling 4.2% from a year ago, adding to the gloomy scenario of the past two years in the bulk sector [read… Rail Freight Gets Clocked from all Sides in this Economy]