The Amazing Down Spiral of Atlanta Fed's Q3 GDPNow Forecast
But is the auto sales data inflated?
After a crummy first half, the US economy really, really needed a strong third quarter, more than a strong one, a heroic one, to pull the year out of the doldrums. And at first, according to the initial estimates by the Atlanta Fed's GDPNow model, it looked like we would be getting it, which triggered a big sigh of relief around the country. But the plunge since those heady estimates in early August has been breathtaking.
The GDPNow forecasting model is attempting to estimate what the official first estimate of quarterly GDP will be. This "nowcast" model takes in the data as it is released. Thus it gets more accurate as it closes in on the release date of the official first estimate of GDP. So this plunge is not propitious.
The current forecast dropped to 1.9% annualized GDP growth, down from 2.1% a week ago, and down from 3.7% in early August. Over those two months, the model has cut its growth estimate in half!
Today, the GDPNow forecast was dragged down by its forecast of third-quarter real personal consumption expenditures growth, which fell from 2.9% to 2.6% after the retail sales report from the Census Bureau this morning. I added the red line to the chart to show the slope: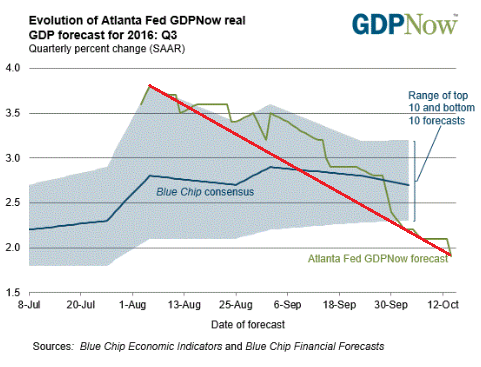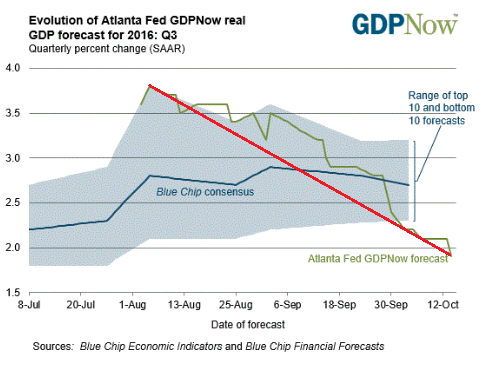 "Annualized" GDP growth means that if the current growth rate were to continue for an entire year, GDP growth for the entire year would be 1.9%. So that would be back in the quagmire range of the past six years. By now no one even tries to trot out the illusion of hitting "escape velocity" next spring.
Also note how the range of "blue chip consensus" forecasts (shaded area) remains stubbornly optimistic. Apparently, they haven't gotten the memo yet.
The standout in today's retail sales report for September, which is what kicked the GDPNow forecast down, was the continued decline in sales by General Merchandise retailers, now down 2.5% from a year ago.
Nonstore retailers – online retailers such as Amazon – did well, up 10.6% from a year ago. Double-digit growth in this category is the norm.