Gordon Chang on Why China Is a Paper Tiger, and Why It Matters to You (Podcast)
There's been some big news out of China lately, and today we'll dive deeper into the discussion when we hear a recent interview I did with Gordon Chang. Mr. Chang is one of the foremost experts on the Chinese economy and has written a book titled The Coming Collapse of China. He'll tell us why he believes an epiccollapse is imminent and what it all means for the Western financial world and why he believes there is what he calls a Chinese floor on the gold price. Don't miss an incredibly eye opening and enlightening conversation with Gordon Chang, coming up after this week's market update.
After being hit with a barrage of heavy selling during the first few days of October, gold and silver markets have stabilized.
Precious metals traders largely shrugged off this past Wednesday's release of the Federal Open Market Committee's latest meeting notes. The most notable Fedspeak to come out of the September meeting was the term "relatively soon" – as in the central bank intends to hike interest rates at some undefined point in the future. Perhaps in December if market conditions are favorable. However, if markets suffer a severe drawdown after the election, then perhaps "relatively soon" will carry over into 2017 or even beyond.
A few meeting participants dissented from the Fed's decision in September to refrain from hiking. They specifically expressed concerns that the FOMC "risked eroding its credibility." They talked as if the Fed hasn't already eroded its credibility. Saying one thing and doing another month after month has consequences. Fed officials offer various excuses each month about the economy not quite performing as well as they had hoped. But there is now a widespread perception that the Fed isn't hiking ahead of the election for political reasons.
Audio MP3 Interview Download/Listen Here>>>
This is an election like no other in recent memory – one in which most organs of the mainstream media have abandoned even the pretense of objectivity. Hillary Clinton and her media and Beltway allies portray Donald Trump as not merely wrong on the issues, but unfit as a person to be president. Trump and his supporters say Hillary Clinton's actions as Secretary of State make her unfit to be president. It's quite likely that if she were just a lower level State Department bureaucrat, she would be facing prosecution over her mishandling of classified material. She certainly wouldn't be deserving of a promotion. Whoever ends up winning will be among the most disliked and least trusted new presidents ever to be inaugurated.
Well, when it comes to investing, the best values often emerge from the least liked assets. When a market is hated by the public, or viewed with doubt even by bulls, it's usually a good time to buy. Right now the gold and silver markets face a lot of doubters who aren't convinced the rally seen in the first half of the year puts the metals in a major bull market.
We've certainly seen a sharp pullback in precious metals prices. Both gold and silver are still holding above their 50-week moving averages. Until proven otherwise, the long term trends remain positive.
As of this Friday recording, gold prices come in at $1,254 an ounce after a small 0.4% decline this week. Silver, meanwhile, is off 0.9% since last Friday's close to trade at $17.46.
The gold to silver ratio has moved up in favor of gold over the past month. That's normal during market downturns, as silver is the more volatile metal. For the year, though, silver is still outshining gold in terms of price performance. And when the next big rally hits the sector, you can expect silver to outperform the yellow metal.
For silver investors who want to own low cost legal tender coins, Money Metals is pleased to announce that we have just been designated as the only dealer worldwide for the stunning new 2017 "HMS Bounty." This .999 pure silver coin from the New Zealand Mint is the lowest priced 1 oz legal tender silver coin in the world.
The content and purity of the New Zealand Bounty are identical to those of silver American Eagles, yet premiums are MUCH lower.
The Bounty is not only an outstanding value in legal tender silver, it's also a spectacular coin. The reverse depicts Her Majesty's Ship The Bounty under sail, circumscribed by an eight-point compass. The obverse features Queen Elizabeth II and bears the coin's $2 legal tender denomination.
The New Zealand Mint has been producing legal tender coins, bullion, and collectible medallions for more than four decades. It prides itself on high quality designs and production.
Money Metals is offering the 2017 Bounty at only $1.99 over spot for smaller orders, and as low as $1.69 over spot if you buy 500 or more, making it the lowest price on any 1 oz government minted coin. Its weight, purity, and legal tender status are backed by the Reserve Bank of New Zealand.
In addition to their primary value as a store of wealth against the fickle nature and uncertain future of fiat currencies, these beautiful coins will make outstanding Christmas gifts and stocking stuffers, helping instruct others on the wisdom of owning sound money and investing in precious metals.
As always, all orders over $1,000 ship free at Money Metals – that's about 50 1 oz New Zealand Bountycoins. There is no order limit, so feel free to buy as many as you want.
Well now, without further delay let's get right to this week's exclusive interview.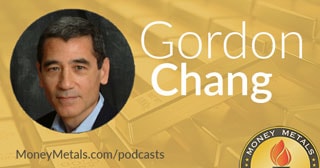 Mike Gleason: It is my privilege now to welcome in author, lawyer, television pundit, and Forbes columnist Gordon Chang. Gordon is a frequent guest on Fox News, CNBC, and CNN and is one of the foremost experts on the Chinese economy and its geopolitics and has written a book on the subject called The Coming Collapse of China.
Gordon, it's a real honor to have you on with us today. Thank you very much for taking the time, and welcome.
Gordon Chang: Thank you, and it's a real honor to be on your podcast.
Mike Gleason: Before we dig into some specifics here, Gordon, China's economy is now the second largest in the world. They've been reporting GDP growth at 7% to 10% per year for decades, and we've all heard stories about their booming economy. But few Americans have been there and probably don't really know what's going on. The Chinese government is notorious for managing statistics and controlling information, so it can be difficult for U.S. investors to get the real story. That's why we're very excited to get your insights today. You've spent time in China, you are of Chinese descent, and you've been studying their economy for decades, so you have a unique perspective on what is really happening there.
So to start out here, talk about the current state of the Chinese economy as you see it and where it might be headed. As people listening have probably already gathered, based on the title of the book you wrote, you aren't all that optimistic about what's going to happen there. Tell us about that as we set the stage here.