There's No Plateau in a Housing Bubble, Not Even in Canada
Vancouver in turmoil, Toronto spikes.
Canadian house prices jumped 11.7% in September from a year ago, according to The Teranet–National Bank National Composite House Price Index released today. But the index papers beautifully over the dynamics in each metro.
In six of the 11 metro markets of the index, prices have been languishing or even declining over the past couple of years, as they've hit the wall of reality after often stupendous price gains in the prior decade: Montreal, Calgary, Edmonton, Quebec City, Halifax, and Ottawa-Gatineau.
In the two largest markets – Toronto and Vancouver, which combined account for 54% of the index – prices have blown through the roof. Both markets are among the hottest, most over-priced housing bubbles in the world. UBS recently ranked Vancouver Number 1 globally on that honor roll.
But suddenly the dynamics have changed.
Vancouver's housing market is in turmoil, to use a mild word, as sales have crashed, after the implementation of a real-estate transfer tax this summer by British Columbia, aimed squarely at non-resident investors. In Vancouver, those investors are mostly Chinese. And where do these folks now go to inflate prices? Toronto.
Still, the national house price index (red line, right scale), after the 11.7% jump over the past 12 months (blue columns, left scale), has doubled since 2005!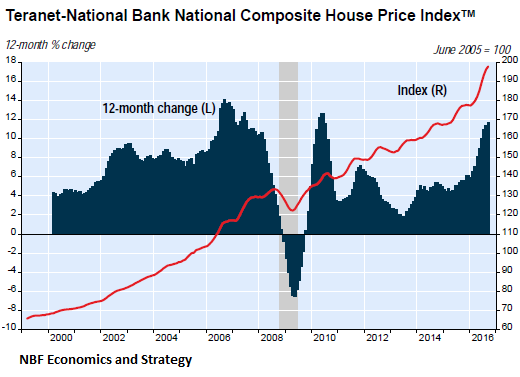 The index, similar to the Case-Shiller Home Price index in the US, is based on repeat sales. It looks at properties that sold at least twice over the years to establish "sales pairs." It then uses a proprietary formula to deduct price changes from these transactions and extrapolate them into an index for each of the 11 markets and nationally. It's not perfect, but it offers an alternative view to median prices or Canada's "benchmark" prices.